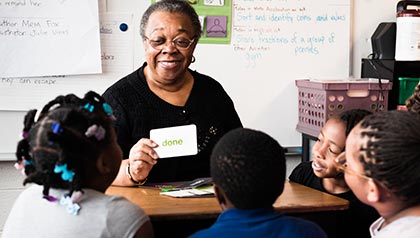 Besides advocating for people age 50-plus, AARP offers opportunities to give back to the community. That includes intergenerational activities such as mentoring schoolchildren. AARP Foundation Experience Corps engages volunteer tutors 50 and older to improve literacy among children in grades K-3. The program is active in 22 cities nationwide, including Washington.

Research shows children who can't read at grade level by the end of third grade are four times more likely not to graduate from high school. Among students tutored through the D.C. program last year, 43 percent made at least a year's worth of progress on standardized test scores, and 21 percent reached grade-level benchmarks.

Want to make a difference? To learn more about Experience Corps, call Denise Fraction at 202-434-6349 or email dcexperiencecorps@aarp.org and ask to be invited to the next information session for prospective volunteers.