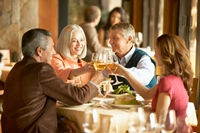 AARP invites you to join our staff, volunteers, and other members at select restaurants across Long Island for "Dining and Giving Back week."
In collaboration with the New York State Restaurant Association - Long Island Chapter on March 2 – 9, 2014, AARP members can show their membership card to save 20% off their food bill at participating restaurants across Long Island.
Additionally, the New York State Restaurant Association will be making a generous donation to a local food bank to further AARP's mission to fight hunger.

Here is a list of participating restaurants*:
PORTO VIVO

CARACARA MEXICAN GRILL

HONU

CASA RUSTICA

OCEAN @ THE CRESCENT BEACH CLUB

CAFÉ JOELLE

THE CLUBHOUSE

PASTA PASTA

LEO'S RESTAURANT

ELISA'S RISTORANTE CAFÉ

RACHEL'S WATERSIDE GRILL

WHITE WHALE RESTAURANT

K.PACHO

ARGYLE

BARRIQUE

LOLA'S KITCHEN

CIAO BABY – COMMACK

CIAO BABY - MASSAPEQUA PARK

KASEY'S KITCHEN & COCKTAILS

NICKY'S CLAM BAR

DARK HORSE RESTAURANT

SHIPPY'S PUMPERNICKELS EAST

PANCHO'S CANTINA

PERFECTO MUNDO

ALETTOS RESTAURANT

JACK HALYARDS AMERICAN BAR & GRILL

LILY FLANAGANS PUB

PHIL'S PIZZA RESTAURANT (KING KULLEN SHOPPING CTR)

PHIL'S PIZZA RESTAURANT (WALDBAUMS SHOPPING CTR)

CANTERBURY'S OYSTER BAR & GRILL

SWEPT AWAY

SOUTHAMPTON PUBLICK HOUSE

THE GRILL ROOM

JEWEL RESTAURANT

POPEI'S OF SAYVILLE

MONAHAN'S

INDIAN WELLS TAVERN

TOWNSEND PUBLICK HOUSE

Join us for a special kickoff event at Jewel located in Melville on March 1 from 2:00-4:00 p.m. to hear more about Dining and Giving Back week. Register online to attend this event and to learn more about what AARP is doing for you and your family on Long Island.
*The list of participating restaurants is updated every Monday. Check back to see if your local restaurant is on the list.