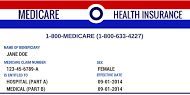 Every day 10,000 Baby Boomers turn 65 and become eligible for Medicare benefits. Many newly eligible older adults will make enrollment mistakes and experience gaps in coverage; or even pay a lifetime of penalties. Medicare has very specific requirements, including deadlines that must be adhered to in order to receive the benefits that are expected. Oregon SHIBA counselors receive calls daily from Medicare consumers who are faced with costly penalties or disruptions in service due to lack of understanding the enrollment process. The common response heard from confused consumers is, "No one told me that!" Even worse is when someone has been given the wrong information! Doctor's offices and insurance agents often do not have a clear understanding of the system and may unintentionally misinform clients. Unfortunately being uninformed earns you no saving grace in being responsible for penalties. The following is an example of an actual call to a SHIBA counselor.
Adding to the confusion of what to do about Medicare eligibility and enrollment issues are the new transitions between OHP coverage or a Marketplace plan with tax subsidies. For people who have either of those coverage benefits, and become eligible for Medicare, finding accurate information about choices, deadlines, and required actions can be extremely problematic. Lack of correct transitioning could result in owing a lot of money for medical services that you assumed were covered or required repayment of non-eligible tax subsidies.
In an effort to prepare those soon to be 65, Oregon SHIBA is planning a series of statewide informative Medicare birthday events. Medicare's 50 th birthday will be celebrated throughout the state through informational sessions designed to help those facing the Medicare enrollment process make the transition smoothly. The Salem area birthday event is scheduled for March 14 th, from 12:30 until 4:30, at the Center 50+ site located at 2615 Portland Road NE, Salem OR. Registration opens at 12:00. Prior registration is preferred. Walk-ins will be accepted on a space-available basis. For additional information, or to RSVP, please call Oregon SHIBA at: 503- 947-7088.
March 14th – Salem area - Marion, Polk and Yamhill Counties
Center 50+
2615 Portland Road NE,
Salem , OR 97301
May 16th – Portland area – Multnomah and Washington Counties
Portland Community College Willow Creek Center
241 Sw Edgeway Dr,
Beaverton, OR 97006
June 27th – Bend – Deschutes County
The Riverhouse Hotel & Convention Center
2850 Rippling River Court
Bend, OR 97701
July 18th – tentative – Eugene – Lane County
TBD
Sept. 19th – Medford – Jackson County
Smullin Center
2825 E Barnett Rd,
Medford, OR 97504