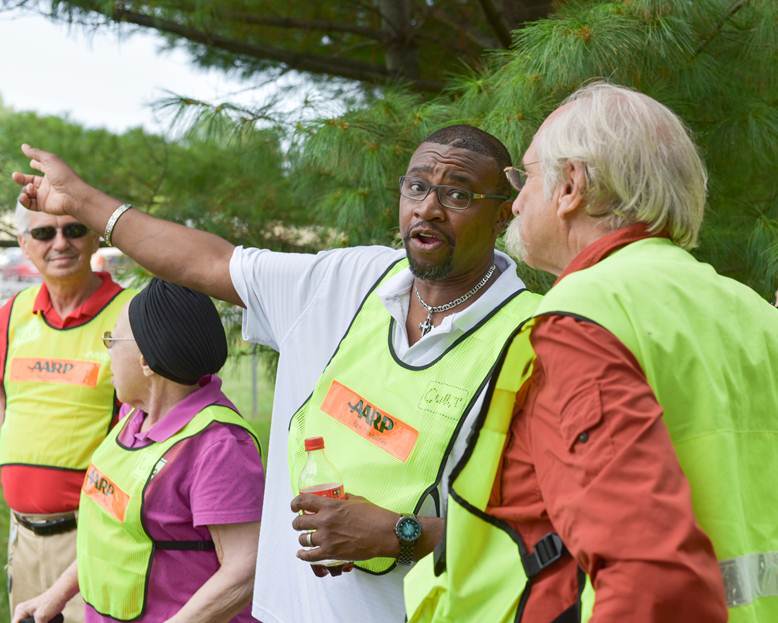 Can you walk to purchase a popsicle and cross the street before it melts? This is the question Dan Burden of the Walkable and Livable Communities (WALC) Institute asked the crowd of people gathered at a public presentation last Wednesday. AARP Iowa hosted an Active Living Workshop in the Martin Luther King Jr. Park neighborhood in Des Moines, which was in need of some TLC. More than one hundred residents and community leaders gathered to learn about walkability and how to improve pedestrian safety.

MLK Jr. Park is located just northeast of the Iowa Capitol and home to many residents who feel long forgotten by city leaders. Assets to the area include a compact residential layout, large open park space, and an accessible location right off Highway 235. However, most sidewalks are cracked, overgrown, or non-existent. One older resident said even if he could navigate the crumbling brick path to reach the pharmacy two blocks away from his senior apartment, he would not be able cross 14 th Street. This problem of accessibility is in fact true with all commercial locations that could provide daily needs for neighborhood residents. In fact, the locations of a Walgreens and a Dollar General could pass the popsicle test, if crosswalks existed and traffic was calmed.

So what sort of methods can be used to calm traffic? Dan Burden addressed the issue at the public presentation, referring to 14 th Street as a "gun barrel". That means its design encourages cars to travel at excess speed, but does not effectively move more traffic. He looked at daily traffic counts and suggested a "road diet", which would take the street from four to two lanes with a middle turn lane, and bicycle lanes on either side. Crosswalks and adequate bus stops would allow the street to be more pedestrian-friendly as well.

On Thursday morning Dan took a group of walking workshop participants, city and transportation planners, public health professionals, active neighborhood residents, and yours truly, to the streets of MLK Jr. Park on a "walking audit". He led us into the middle of a two-way stop near Amos Hiatt Middle School, where we encircled him at arm's length to create a human traffic circle and watched how cars had to slow in order to drive around us. Installing a mini-traffic circle would not require widening of the intersection and stop signs would no longer be needed. Speeds on through streets can be slowed using parking that alternates to either side of the road or with "parklets", gardens that jut out from front yards in between parking spots.

After the audit, we split into groups and used neighborhood priorities to guide recommendations for future directions. Using the same set of traffic calming tools, we each came up with unique solutions to meet short and long-term goals. My group proposed improvements to University Ave. that could make a walking school bus possible. Another group thought open space adjacent to a senior living complex could be turned into a grandparents' park.

The ideas generated in that room made it feel possible to take the necessary steps forward in improving the neighborhood. Next month, the WALC Institute will release the walking audit's report with more clearly defined recommendations to help city planners and neighborhood advocates move toward implementation. Maybe someday soon Walgreens will have to expand their popsicle selection so residents have more options to walk home with.