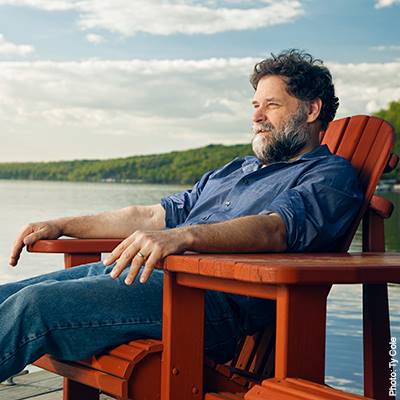 Tour offers insight into more deliberate, deeper, and connected ways of living and working, and is brought to Boston in partnership with AARP's Life Reimagined and others

Dr. Bill Thomas, one of the most innovative and creative thinkers working in medicine today, is bringing a radical new approach to growth and aging through a national "non-fiction" theatrical tour produced in partnership with AARP's Life Reimagined, Capital Impact Partners, Merrill Lynch, and sponsored locally by the Chelsea Jewish Foundation.

By blending spoken word, innovative set design, and music into a single experience, the tour offers audiences a holistic exploration that draws on a deep well of evidence-based approaches to growth, change, aging, health, and wellness.




WHAT: Second Wind Tour—This Changes Everything
WHEN*: Wednesday, June 4, 2014
TIME: 1 to 5 PM
WHERE: Berklee Performance Center, 136 Massachusetts Ave., Boston, MA, 02115
WHO: Dr. Bill Thomas, Author, Second Wind: Navigating the Passage to a Slower, Deeper, and More Connected Life; Dr. Janet Taylor, consumer health expert and TV personality; Barry Berman, CEO, Chelsea Jewish Foundation; Steve Saling, ALS resident, Leonard Florence Center; Samite Mulondo, founder, Musicians for World Harmony
TICKETS: Admission is free and tickets, while not necessary, may be downloaded at the Second Wind Tour site.
* NOTE: The Second Wind Tour also visit New Hampshire, with a performance at the Music Hall in Portmouth the day before Boston, on Tuesday, June 3, from 1-5 p.m. Click here for details.


ABOUT DR. BILL THOMAS:

Dr. Bill Thomas is a visionary and internationally recognized expert on aging. He is an Ashoka Fellow and winner of the Heinz Award for the Human Condition. He co-created The Eden Alternative, an international nonprofit, and The Green House Project, both models to revolutionize nursing home care. In addition to teaching, speaking, and consulting internationally, he is currently a Senior Fellow of AARP's Life Reimagined Institute. A graduate of the State University of New York and Harvard Medical School, he lives in Ithaca, New York with his family. Visit www.ChangingAging.org.



ABOUT LIFE REIMAGINED:

Life Reimagined is a community of people committed to rediscovering their gifts, exploring new possibilities, and moving toward their best lives. Visit us at: www.lifereimagined.org



ABOUT CAPITAL IMPACT PARTNERS:

As a nonprofit organization and a certified Community Development Financial Institution with a national presence, Capital Impact Partners improves access to high-quality health and elder care, healthy foods, housing and education in low-income communities across the country. Learn more at: www.ncbcapitalimpact.org



ABOUT THE BOOK:

By Dr. Bill Thomas: Second Wind: Navigating the Passage to a Slower, Deeper, and More Connected Life