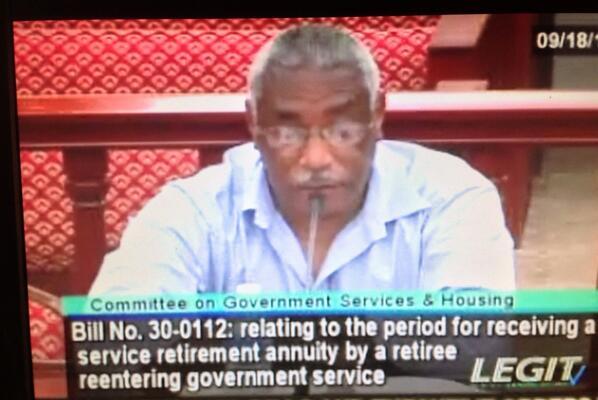 Executive Council Member, Dave Barber went before the Virgin Islands Legislature on Wednesday, September 18,2013 to represent AARP Virgin Islands. He provided testimony on Bill Number 30-0112, sponsored by Senator Craig Barshinger, which is an Act related to the period of time a retiree can receive a service retirement annuity when they re-enter government service.

As part of his testimony, Mr. Barber acknowledged that the law, as it currently stands, fails to specify whether the retiree will work 75 days where each day represents 8 hours or whether the period of time could be equivalent to 600 hours regardless of the number of days it might take to reach the 600 hours.

As currently written, the VI Code allows for retirees to work significantly more hours per day and be compensated with routine hours plus overtime. Conversely, the same law fails to contain any language which would require each of the 75-days to be 8-hours each. This means that retirees currently have the possibility to work a few hours each day during the 75 days yet and collect far less compensation before the time period ends.

The bill being was intended to solicit input from various stakeholders concerning options to make the law clearer, fairer and more functional. The public debate for this bill was held under the leadership of Committee Chairperson, Senator Diane Capehart in the Committee on Government Services and Housing on September 18th.

Mr. Barber testified that after fully examining the issue, AARP VI recommended that the language in the law be changed to "75 days, not to exceed 600 hours." This language will encompass the "mission focused concept" as well as keep the retiree's re-entry to no more than 600 hours.