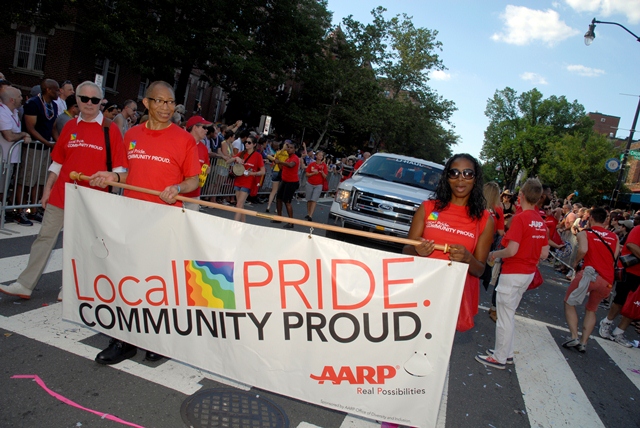 In 2015, Capital Pride celebrates its 40th year in the nation's capital. Embracing Pride year-round is what local organizers are promoting. Capital Pride Week is June 3 -14, 2015. In 1975 Capital Pride was a one-day block party for a few hundred people. With the theme "Have Pride 365" Capital Pride is a non-profit organization that produces one of the largest LGBTQ Pride celebrations in the country, according to the official 2015 Pride Guide. That's growth!

Pride is defined as a feeling that you respect yourself and deserve to be respected by other people. Capital Pride's mission statement, in part, states that through its programming and events during the year it serves to celebrate, motivate and support diverse communities in order to grow and protect their legacy for future generations.

Something to think about

More than 39 million people in the U.S. are 65 or older. That includes 1.5 million who identify as lesbian, gay, bisexual or transgender. As the baby boomer generation ages, the older population will increase from 12.8 percent to an estimated 19 percent in 2030. Along with these age statistics come particular issues for senior gay people, according to a "National Health, Aging and Sexuality Study: Caring and Aging with Pride Over Time."

Not every gay person is young, marches in parades and parties 'til 3 in the morning. There's a lot waiting down the road as the LGBTQ community ages. Many seniors are experiencing specific needs, now.

As a part of Capital Pride year-round, AARP DC recently sponsored a very special discussion group called "Lounge and Learn: A Chat About Caregiving and Isolation for Women in the Lesbian/Gay/Bisexual Transgender Communities." It was like a modern-day "salon", which were gatherings of people in the presence of a host who had assembled to discuss and increase knowledge through thoughtful and inspiring conversation.

In addition to AARP DC, other sponsors for "Lounge and Learn" were Whitman-Walker, the Human Rights Campaign, SageDC and AARP's Women's and LGBT (PRiSM) employee groups. Mitchell Gold+Bob Williams Showroom graciously served as the host for this AARP DC experience.

The "Lounge and Learn"facilitator was D Magrini, 60, a health educator at Whitman-Walker Health, a federally qualified health center that serves the LGBTQ and HIV/AIDs communities. She indicated that the object for older women for this caregiving topic was for everybody to tell their stories.

"It's a very powerful tool to get out what the points are that people want to share and what resonates with the group," she said. "Caregiving gives us a chance to share our generosity and that, in this world, is one of the things that keeps us human. People do this at a much younger age now," she says.

Michelle Howard, 57, a pharmacy technician from Largo, MD, related her story.

"My mom had cancer in her last year. She went down slowly. My father did most of the caregiving. I have two sisters and they were there as support for the two of them when it got to the point where my mother couldn't do anything for herself. My sisters would help whenever they could because. We all worked full-time so it was a lot on my father but we did what we could."

Howard's mother was placed under hospice care which her father knew about when his father became ill.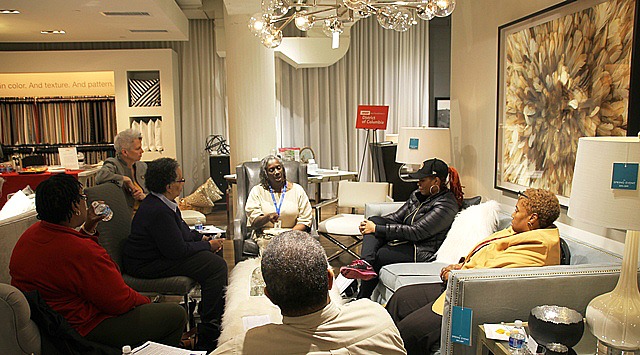 "They're very good in what they do. My father benefited a lot from the grief support group after his father died; so yes, they're pretty good caregivers."

Things to consider

There are a lot of things to take care of when someone you love is ill, be it a friend, a partner, a family member. What if your partner needs a transplant? How much will medical bills cost? What if one of your parents was gay and lived at a nursing home? How will communal living affect him or her? Will there be discrimination in obtaining information? Will it make a difference in the care he or she gets? What about isolation? Will a loved one have friends who visit at his or her home? Will being gay make a difference?

"Caregiving has affected me on a lot of levels," says Michelle Parkerson, 62, a writer, filmmaker and performance artist born in DC. In 2010 I was diagnosed with cancer and my partner at the time -- we were together for 22 years – was a caregiver to me. She was 11 years younger. The cancer came right out of the blue. I'd never been in a hospital, never been sick. And the doctor said, 'You've got Stage IV cancer.'"

"So we went at that together and she saved my life. I'm in remission now. There were points where I could not eat where she would tend to my feeding and things while I was at home. I am here because of her and she was an incredible example of unconditional love."

Along the way Parkerson got involved with SAGE, an advocacy group for gay, lesbian, bisexual and transgender elders and Mary's House DC for Older Adults, which offers affordable housing.

Does she worry about who will care for her?

"I do. I do. I have a couple of good friends but they're all older than me, maybe by 6-8 years, so I do think about it and I think about them as well. When their time comes I need to be able to stand and be ready to support them."

AARP DC continues to promote Pride year-round by serving as a sponsor for the 2015 Capital Pride Week. Volunteer to help and march with AARP DC in this year's Capital Pride parade that will be held on Saturday, June 13. AARP DC will also host more Lounge and Learn sessions throughout the year. Interested? Contact us by email at: dcaarp@aarp.org OR call: (202) 434-7700.

AARP DC volunteer Rocci Fisch wrote this feature.