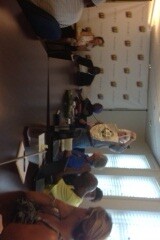 New jobs and new revenue streams were all part of the focus of the discussions held on the UVI campus in St. Thomas as Judith Enck, Regional Environmental Protection Agency (EPA) Administrator took part in a recycling stakeholder meeting in late February.
"Think of it as a commodity and NOT as waste," stated Judith Enck as she talked about the possibilities that are associated with recycling materials that are routinely thrown away. "There is not only funding streams, but there are a tremendous amount of jobs in the recycling industry. In fact, said Enck, "There are more people employed in California in recycling than in the entire motion picture industry."
Paper, plastic, glass, scrap metal and tires are just a few of the valuable items which can be separated from within the VI waste stream and sold for a substantial profit or recycled locally for a substantial savings. "Glass, for instance, can be used on island in a variety of ways," stated Enck. "It can be pulverized and mixed with concrete for sidewalks, as it is done in New York, or it can be mixed with asphalt for roads."
One of the most costly components in the recycling process is separation of items into "like" groups which can then easily be reused or sold to make new items. For instance most household waste can be sorted into paper, glass, plastics and metals (aluminum cans or foil). If this process was completed at the household level, trash haulers could collect the pre-sorted materials on either different days of the week using the same truck or on the same day by placing items in pre-arranged sections within the truck. The time spent sorting at the dump would be totally eliminated along with the costs related to doing so. If everyone participated, the cost associated with waste collection and recycling could be kept to a minimum.
According to Mae Adams Cornwall, the Director of the VI Waste Management Authority, "The key to getting recycling going in a 'big way' is making the right connections." That's one reason why she took a group of her Citizen Advisors to Guaynabo, Puerto Rico last year to examine a comprehensive recycling plant that may become a key market for many of the VI's recycled materials such as cars, scrap metals and other items.
Another issue that many at the UVI meeting thought important was the removal of plastic bags from being given out at stores across the Territory. It was felt that there are many alternatives which should be explored which could greatly help the environment. One group from St. John even designed their own bags to encourage St. Johnian grocery shoppers to use reusable bags.
It was noted that even under the best circumstances, when discarded properly, the bags end up in the landfill and never decompose. When disposed improperly, these bags become hazardous to marine life and coral reefs.
Composting, another major issue discussed during the three-hour meeting, was also viewed as yet another major way that Virgin Islanders could prevent up to three quarters of its refuse from ever entering a landfill. Composting can be achieved at the residential and commercial levels and would result in an end product that could be used in a variety of ways. It could help fortify VI soil for farming or as a filler material to support roads or construction sites.
Representatives from Cornell University in New York and the San Antonio River Authority participated by phone and urged attendees to seriously consider the benefits of both recycling and composting. The Cornell Waste Management Institute website is a wealth of information on " how to" recycle and compost and can be reached at: http://cwmi.css.cornell.edu/ . Mr. Jim Doersam, from the San Antonio River Authority is also available to answer specific questions about composting. He can be reached by email at: jdoersam@sara-tx.org.
According to Enck, "The purpose of the meeting was for the EPA to work with community groups to make sure that recycling can happen." Indicating one way to ensure success, Enck continued, "We need to make recycling easy for people in their homes and at recycling centers. By participating on the individual level we can all make a dramatic drop in what goes into the landfill."
Congratulating the group on their desire and the ability to get recycling off the ground, Enck congratulated Virgin Islanders saying, "Recycling in the Virgin Island is not years away, instead, it is just months away."
For more information on how you can get involved in recycling check back at: www.aarp.org/states/vi. Feel free to share your comments regarding this topic via our Facebook page follow us on Twitter! -
# # #