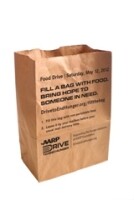 Contact: David Irwin dirwin@aarp.org
State Need Has Soared by 130%; Proposed Cuts Would Eliminate Nutritional Safety Net for Many
NEW YORK, NY – As the debate over cuts to the nation's food stamp program (Supplemental Nutrition Assistance Program or SNAP) reaches a fevered pitch in Washington, the outcome could hold disastrous consequences for families, children and seniors in New York. AARP opposes key parts of a bill that would make it harder for people to access the nation's nutritional safety net at the exact time many need it most.

The debate comes as state need continues to rise. In just the last 10 years, New Yorkers relying on SNAP has soared over 130% and nearly 3% in the last year alone. 3.2 million New York residents of all ages use SNAP every month to put food on the table and stay healthy - roughly 500,000 of those recipients are 60 or older.

"Too many New York households already face a constant struggle against hunger and food insecurity on a daily basis, as well as emergency food assistance in times of economic and natural disasters, such as Superstorm Sandy," said Beth Finkel, State Director for AARP in New York. "This bill will make it even harder for many New Yorkers facing a fight to keep food on the table for themselves and their family."

HR 3012 "The Nutrition Reform and Work Opportunity Act of 2013," would cut $39 billion to SNAP over the next 10 years, add more stringent conditions to discourage participation and generate cost savings that will harm millions of hungry and food insecure Americans. The bill would remove up to 3.8 million people from food stamp eligibility next year.

"New Yorkers face some of the highest costs in the nation when it comes to the basics such as their utility bills, tack on soaring costs of prescription drugs, and food and it's a delicate balance that can be tipped at any time for many," added Finkel. "Hungry children, seniors and families cannot and should not have to wait on the sidelines for access to a necessity such as food and nutrition."

New York is home to the most food insecure Congressional district in the nation, nearly 37% of residents in the 16th Congressional District in the South Bronx, reported lacking money to buy food, more than any other Congressional district in the country and twice the national average in 2009.

Later this month, AARP New York will be releasing a white paper detailing barriers faced by those seeking nutritional assistance with recommendations on how to improve access to SNAP in the state.

Follow us on Twitter: @AARPNY and Facebook: AARP New York



AARP is a nonprofit, nonpartisan organization, with a membership of more than 37 million, that helps people turn their goals and dreams into real possibilities, strengthens communities and fights for the issues that matter most to families such as healthcare, employment and income security, retirement planning, affordable utilities and protection from financial abuse. We advocate for individuals in the marketplace by selecting products and services of high quality and value to carry the AARP name as well as help our members obtain discounts on a wide range of products, travel, and services. A trusted source for lifestyle tips, news and educational information, AARP produces AARP The Magazine, the world's largest circulation magazine; AARP Bulletin; www.aarp.org ; AARP TV & Radio; AARP Books; and AARP en Español, a Spanish-language website addressing the interests and needs of Hispanics. AARP does not endorse candidates for public office or make contributions to political campaigns or candidates. AARP Foundation is an affiliated charity of AARP that is working to win back opportunity for struggling Americans 50+ by being a force for change on the most serious issues they face today: housing, hunger, income and isolation. AARP has staffed offices in all 50 states, the District of Columbia, Puerto Rico, and the U.S. Virgin Islands. Learn more at www.aarp.org .

####