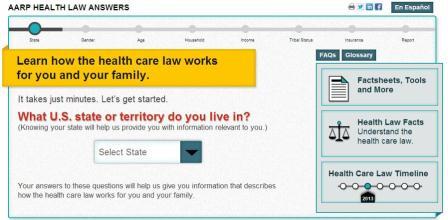 You're probably hearing a lot in the news lately about the new health care law, aka "Obamacare" or The Affordable Care Act, as states like Connecticut prepare for the October 1 opening of new online health insurance marketplaces (known as exchanges) where uninsured individuals and small businesses will be able to shop for, compare and purchase health insurance plans (In Connecticut, the exchange is called Access Health CT). But if you're like most Americans, you probably still have a lot of questions about the new law and what it means for you as an individual or your family. To help, AARP has launched HealthLawAnswers.org - a quick and easy way to get customized information based on where you live, gender, your family size, income and insurance status. Answering just seven simple questions generates a report about what benefits may be available to you and your family and where to find more information. The tool is also available in Spanish.

For example, if someone is currently without health coverage the tool will let them know how the health insurance marketplace will work, provide resources about things to consider when shopping for coverage and then connect the individual with the health insurance marketplace in their state. The tool is available in English and in Spanish and reports can easily be translated between the two. Individuals can also download their report, email it or save it, making it a great tool for family caregivers who may be looking to provide information to a loved one.

In addition to HealthLawAnswers.org, AARP created an information-rich website called HealthLawFacts.org for consumers to quickly find resources and more detailed information on specific aspects of the law. AARP's suite of resources includes information for those who are currently insured, those without health coverage or fear of losing it and people with Medicare.

These resources are a part of AARP's ongoing nationwide effort to educate Americans about the health care law and what it means for individuals – whether they have health coverage or not – by providing simple, clear-language information about the law and resources for families to understand what the law means for them and how to access new available benefits.

Beyond these new resources, AARP is collaborating with a number of organizations to reach people where they live, including outreach in Hispanic communities with the Hispanic Federation, National Council of La Raza, Esperanza and the League of United Latin American Citizens. In Connecticut, AARP staff and volunteers are engaged in on-the-ground efforts to educate consumers about the law and provide information on local resources and places to ask for help with enrollment.

According to AARP Connecticut State Director, Nora Duncan, "We know there is a lot of information out there about the health care law and AARP is here to help people cut through the clutter to find the answers and information that matters to them."

For more information visit HealthLawAnswers.org.