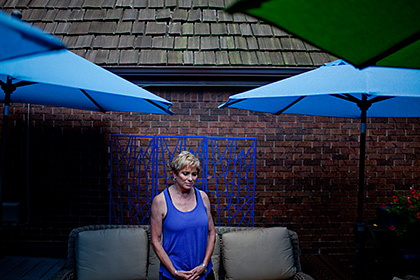 By Roger Fillion

Becoming the primary caregiver for her 94- and 96-year-old parents wasn't something Kathy Burg anticipated. But three years ago, as her mother's dementia started to interfere with everyday living, Burg took over her parents' finances and other day-to-day tasks.

She drove them to appointments and the grocery store and hired someone to cook three meals a week and sit with her mother an hour a day.

Now her mother is in a nursing facility; her father remains in the family home. Burg, 65, of Greenwood Village, shuttles between them.

Juggling it all, she said, is overwhelming. "I didn't expect them to … deteriorate to the point where they need so much care."

Many are in a similar situation. About 576,000 Coloradans provided care for a loved one in 2009, according to an AARP Public Policy Institute report. The economic value of that care is $6.6 billion.

Exhausting on all levels

Becoming a family caregiver is "mentally exhausting, and it's physically exhausting," said Stephen Holland, director of the Upper Arkansas Area Agency on Aging (UAAAA) in Salida. Like the 15 other Area Agencies on Aging in Colorado, UAAAA offers counseling and services to family caregivers to help them cope with their role.

"It's not something someone prepares for," Holland said. "It's something people get thrown into."

Key among the programs is respite care, which provides someone to look after an older loved one for a few hours so the family caregiver can run an errand, go for a walk or take a nap. In Larimer County, for instance, respite care is provided by Volunteers of America, Northern Colorado Services.

"You're better able to look after your loved one because you're allowed to take that break. It recharges your batteries," said Brittany Barella, manager of the agency's caregiver support program.

Many Area Agencies on Aging give caregivers a voucher to purchase respite services and may cap the dollar value of the vouchers, said Todd Coffey, acting director of Aging and Adult Services at the Colorado Department of Human Services (DHS).

Caregivers can also get respite by using adult day care at a facility such as a senior center, which provides supervised full- or part-day programs for older adults who need assistance or companionship.

In addition, Area Agencies on Aging offer home-delivered meals, meals in group settings such as senior centers, transportation to appointments or the grocery store and referrals to other services. While consumers are not required to pay for these services, donations are accepted.

Many family caregivers even provide medical care for a loved one. Nearly half of family caregivers nationwide perform medical and nursing tasks such as administering IVs, replacing bandages and giving injections, according to an AARP Public Policy Institute and United Hospital Fund survey.

60+ population will double

The Colorado DHS estimates the number of people 60 and older will nearly double in the next decade, and almost 40 percent will need some form of assistance.

"The more resources and help caregivers can receive, the more successful they will be at preserving their own physical and mental health as well as that of the individual they care for," Barella said.

The AARP Caregiving Resource Center provides information and a way to connect with other caregivers through an online community. A toll-free hotline is staffed weekdays and Saturdays at 877-333-5885 (English) and 888-971-2013 (Spanish). The AARP Colorado website includes a monthly column on aging and caregiving issues.

Roger Fillion is a writer living in Evergreen, Colo.