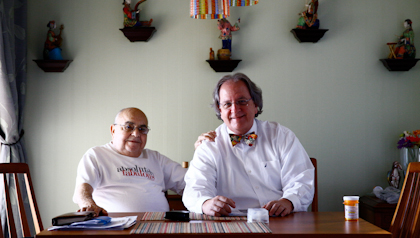 By Kathleen Haughney

When Chris MacLellan's partner, Richard Schiffer, was diagnosed with esophageal cancer two years ago, MacLellan became a full-time caregiver.

"You don't get a day off," said MacLellan, 57, coordinator of senior services for Sunshine Services Inc. in Wilton Manors and a local activist known as the Bow-Tie Guy.

Schiffer, 83, who died earlier this month reached the point where he could not stay at home alone during the day. But the options for senior care in Florida are costly.

According to Genworth Financial, a financial services company, the median cost of care in a private nursing home room in Florida last year was more than $91,000. In comparison, adult day care cost $15,600 and a home health aide was more than $42,000 (averaging 44 hours of care a week).

But there is a stopgap state program for people who need assistance: Community Care for the Elderly (CCE). It's designed to help people who aren't poor enough for Medicaid, but aren't wealthy enough to handle the costs associated with care.

Schiffer received some at-home medical equipment through the program, but little direct care.

When Schiffer and MacLellan inquired about in-home care, they were told the waiting time could be 24 months.

"From my personal experience, I can understand why people just give up," MacLellan said. "I think if there's one thing that everyone agrees on, it's that there should be more funding and easier access."

MacLellan eventually paid for one day of home care per week, and was able to get adult day care for Schiffer through the Older Americans Act, a federal initiative in place since the 1960s.

Throughout the state, roughly 6,000 people receive community-based assistance such as adult day care, case aides, home nursing and home-delivered meals through the Community Care for the Elderly program. But roughly 29,000 people are on a waiting list.

"The need just far exceeds the resources," said Elizabeth Lugo, president/CEO of the Volen Center, which provides transportation, meals and care for older people in Broward and Palm Beach counties.

A win-win-win proposal

AARP Florida and other advocates for older people are pushing the state to increase the Community Care for the Elderly program's $56 million budget.

Jack McRay, AARP Florida advocacy manager, said increasing funding for CCE is a better investment than relying on nursing homes and allows more people to age in their own homes. Potentially, some nursing home residents could go home.

"It's sort of a win-win-win for the elderly, the caregivers and the taxpayers," he added.

In late January, Gov. Rick Scott (R) announced he would ask for a $4 million increase in CCE funding for the coming fiscal year, on top of a nearly $4 million increase last year.

The proposed increase would reduce the waiting list by about 600 people, according to the Department of Elder Affairs. Altogether, Scott has called for a $33 million increase in state spending on programs affecting older residents.

Several key legislative leaders, including House Speaker Will Weatherford (R-Wesley Chapel), have indicated support for the CCE increase.

McRay called the proposed increase "a good first step, but significantly shrinking the waiting list would be meaningful progress."

According to state economists, there is about a $1 billion surplus available for next year's budget.

Scott is also pushing $500 million in tax cuts, including a $400 million cut in annual vehicle registration fees that is projected to save drivers roughly $25 per year. With the governor projected to face a tough reelection bid, he's likely to get what he wants from the GOP-controlled legislature.

State Senate President Don Gaetz (R-Destin), a former hospice company executive, said that although he expects the House and Senate health care committees to discuss community care, "I don't look for any major increases."

Lugo noted that many people may need more than what is provided under one program.

She said her staff is always happy when they can get someone off the waiting list.

But, they often find they are too late.

"We hear, where were you six months ago?" she said.

Kathleen Haughney is a writer living in Tallahassee, Fla.