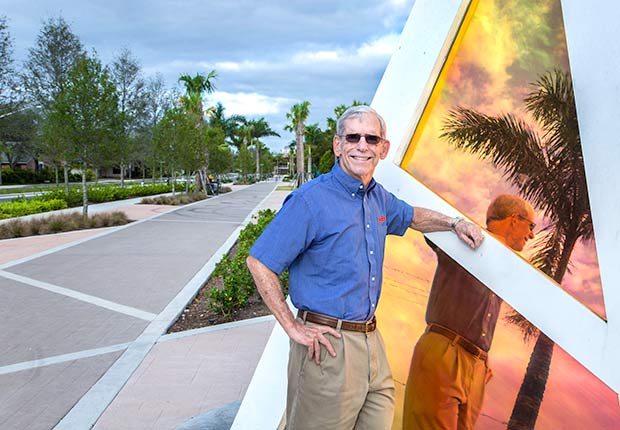 By Veronica Zaragovia

Ken Reinhardt recently visited Mayor Joy Cooper in her Hallandale Beach City Hall office and gave her some tips on making the town more livable.

"The secret is to get partners. It's not about redesigning highways," said Reinhardt, adding that it doesn't take millions of dollars or major projects to make a community age-friendly. For example, he suggested that Zumba, whose national headquarters is in Hallandale Beach, could be a partner in promoting fitness for older adults.

Cooper was interested and said she would look into it.

Reinhardt, 75, a volunteer on AARP's Florida Executive Council, has been driving across Broward County, urging mayors and city managers to apply to the AARP Network of Age-Friendly Communities.

"When I retired, I knew I wanted to do something useful and give back to the community," said Reinhardt, a former engineer who lives in Coral Springs. "This work resonates with me. I can play a part in moving the needle."

A city, town or other locality that wants to join the network submits an application to AARP, describing its plans for an aging population. This could include improved road signage; safer, walkable streets; or affordable public activities to help older adults socialize.

So far, AARP has 81 member communities nationwide that can learn from, and motivate, one another. The AARP network is the U.S. affiliate of the World Health Organization's Global Network of Age-friendly Cities and Communities.

Four communities are in Florida: Sarasota County, Tallahassee, Winter Haven and Cutler Bay. Advocates are working to persuade Jacksonville and several other municipalities in the state to join as well.

State researchers project that Florida's population will grow by almost 5 million by 2030. Nearly 60 percent of that population growth will be made up of people 60 and older.

A demographic wave
"It isn't enough just to sit idly by and let this literal tsunami of a demographic change occur without doing something to prepare for it," said Steve Rankin, the program director of Jacksonville Community Council. The nonprofit has about 70 volunteers working on issues such as housing and transportation under its Re-Think Aging project.

Sarasota County, which has Florida's highest percentage of residents 85 and older (4.8 percent), was the first Florida community to join the AARP network.

"Everybody wants this to be a success" in making Sarasota an age-friendly community, said Kathy Black, a gerontology professor at the University of South Florida Sarasota-Manatee. "Creating an age-friendly community will involve all of us to play a part: people, government, nonprofits and business."

Black is proud of a Sarasota County resolution last year that encourages builders to participate in a universal design program.

That means constructing homes with features such as door frames wide enough for wheelchairs, entrances without steps, and door levers instead of knobs to help people with arthritis or other physical difficulties. Builders receive a certification seal and may qualify for fast-track permitting.

In Winter Haven, Cari Herrington chairs the Council on Quality Aging, which looks for ways to make the community more livable for older residents.

"We want to make sure the infrastructure is tailored to aging," Herrington said. She gave examples: lower curb heights and signs at intersections that "talk" to pedestrians who may have difficulty reading street signs.

"Our goal is to keep those issues present in the minds of decision makers so they budget for it and include age-friendly accommodations in their plans for the future," she said.

For more information on age-friendly communities, go to aarp.org/livable.

Veronica Zaragovia is a writer living in Miami.