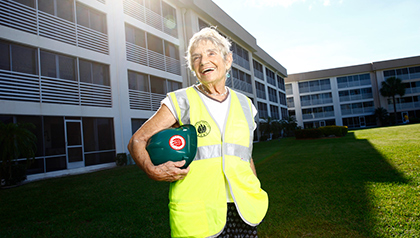 By Bruce Lowitt

When disaster strikes, local volunteers across the state are ready to help, sometimes arriving at the scene before firefighters or police can get there.

Many belong to groups affiliated with Florida's Voluntary Organizations Active in Disaster (VOAD), which are always seeking more volunteers. Help can be as simple as checking on neighbors who live independently or as complex as assisting in search and rescue operations.

VOAD is a network of organizations, many of them faith-based, that recruit and train volunteers to provide shelter, food, child care, debris removal, temporary roofing and flood cleanup. Some specialize in offering emotional and spiritual support or guiding survivors through the maze of disaster assistance.

With the start of the Atlantic hurricane season June 1, the need for volunteer responders becomes more acute.

Florida emergency managers are particularly interested in recruiting former military personnel or first responders, said Merrilee White of Volunteer Florida, the state agency that coordinates volunteer efforts.

"Volunteers always play a big role in responding to disasters," White said. "When boomer-age volunteers match their varied life experiences with additional disaster training, they are an amazing resource for communities recovering from a disaster."

Many volunteers, like Marijo Beckman, 77, of Delray Beach, are members of a Community Emergency Response Team (CERT). She's been a CERT member at her 220-unit condo since shortly after retiring in 2006 from her job as a registered nurse at Broward General Hospital.

Her team has backpacks with identification jackets, masks and gloves. Some also carry walkie-talkies to let emergency managers know what roads might be impassable and to ask for things their neighborhood might need. The devices also serve as backups if regular phone service is out.

AARP steps up

At the 28th annual Governor's Hurricane Conference this month in Orlando, AARP will be reaching out to emergency managers to explore the challenges facing older Floridians when storms hit—and ways boomers can help.

"Hundreds of thousands of Floridians 50-plus have skills that could make a big difference in times of disaster," said Jeff Johnson, AARP Florida state director. "But to be most effective, it's important to get trained and organized. Fortunately, there's already a network of volunteer organizations across Florida preparing volunteers for the next big storm. AARP encourages you to get involved."

One big issue: Many older Floridians can cope fine as long as they have reliable electrical power, but may require help if the power goes out, Johnson said. Currently, state emergency managers have no good way to identify them in advance.

CERT volunteers aren't required to have prior emergency experience. They're trained by instructors certified by the Florida Division of Emergency Management.

"Existing CERT team leaders recruit additional members," said Rob Shelt, assistant manager of operations at the Palm Beach County Division of Emergency Management. The Palm Beach County CERT provides information about the availability of training through social media and news releases. It also reaches out to the public at events such as community fairs and through brochures at local libraries.

Training includes basic disaster-response skills: using a fire extinguisher, knowing proper escape routes, applying search and rescue techniques, organizing teams to effectively use resources and knowing how to request assistance from local disaster agencies.

"After a disaster, government resources may be delayed," Shelt said. CERT teams can identify in advance "where the most medically needy people are located so when professional responders arrive they don't have to waste time canvassing the neighborhood.

Potential volunteers can find a list of each county's emergency agency through the Division of Emergency Management website. They can also contact Volunteer Florida at its website or call 850-414-7400.
Bruce Lowitt is a freelance writer living in the Tampa Bay area.