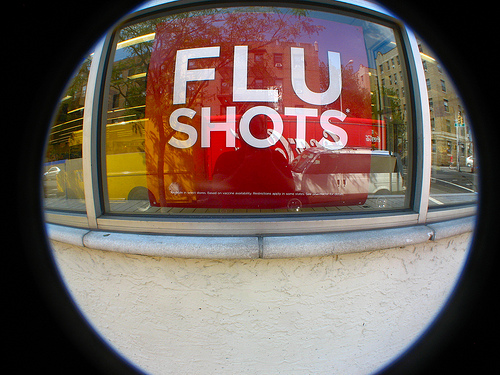 -- Guest Blog by Frances Trelease --

While it's tempting to let our thoughts drift to the warblings of spring, we know that the groundhog saw his shadow on Feb. 2 – which means another six weeks of winter. More frosty weeks ahead will bring new cases of sniffles, sneezes… and the flu.

While influenza numbers are trending downward nationally, according to the Center for Disease Control and Prevention, they're holding steady here in the Northeast; and new cases are expected to extend into March and possibly beyond.

The elderly and very young, along with those with chronic health conditions, may be especially vulnerable. AARP urges those who have not yet received a vaccination, to do so soon.

A variety of locations around Connecticut offer the flu shot, with no appointment needed. CVS's Minute Clinic, for example, is one of several providers that offer both regular strength vaccines, and high-dose strains for people 65 and older. Walgreens, RiteAid, Wal-Mart and many CT grocery chains, including Stop & Shop and Big Y, also offer vaccines on a walk-in basis.

Here in Connecticut, as in elsewhere around the country, Medicare Part B will cover the cost of a flu shot for people 65 and older. Many private insurance plans cover the cost also, although individual plans will vary.

New for this year's flu season, according to AARP, the influenza vaccine can protect against four distinct strains of the virus, rather than the usual three. Researchers have also produced an egg-free strain, FluBlok, safe for those with egg allergies, according to the Department of Public Health (DPH).

READ: Which Flu Shot is Right for You?

The 2013-2014 vaccine also offers protection against the H1N1 virus, which we recall as the cause of the "swine flu" pandemic in 2009, according to the FDA.

Said Marion Gruber, director of the FDA's Office of Vaccine Research and Review, "Annual influenza vaccination is the best way to prevent influenza among people 6 months of age and older… However, taking such practical measures as washing hands, covering coughs and sneezes and staying home when sick can also help to decrease the spread and minimize flu effects. "

To locate flu shot clinics around our state, visit the Health Map Vaccine Finder. Searches can be narrowed by town or by zip code.

The DPH's state Immunization Program, at 860-509-7929, is also a useful resource.

Frances Trelease is the founder of Boomer Den, LLC, and a lifelong Connecticut resident.