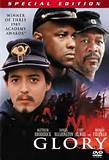 Live in the Macon area or within easy driving distance?

Join us Wednesday, Feb. 13, for a free afternoon showing of the acclaimed classic Civil War film Glory at 2-4 p.m. in the historic Douglass Theatre in Macon. AARP Georgia is underwriting the showing, so your attendance - and refreshments! - will be free. Grab a friend and join us.

Widely acclaimed on its release in 1989, Glory tells the story of the54th Massachusetts Volunteer Infantry. Online free encyclopedia Wikipedia sums it up this way:

"Glory is a 1989 American drama war film directed by Edward Zwick and starring Matthew Broderick, Denzel Washington, Cary Elwes and Morgan Freeman. The screenplay was written by Kevin Jarre, based on the personal letters of Colonel Robert Gould Shaw, and the novels Lay This Laurel, by Lincoln Kirstein, and One Gallant Rush, by Peter Burchard.
The story is based on the 54th Massachusetts Volunteer Infantry, the first formal unit of the US Army to be made up entirely of African-American men, as told from the point of view of Colonel Robert Gould Shaw, its commanding officer during the American Civil War."

If you haven't already visited Macon's Douglass Theatre, you'll enjoy that, too. The theater is a storied venue for events in Macon. Opened in 1920, the theater was the premier spot in its time for entertainment, including movies and vaudeville shows, for African-Americans in Macon. Since its reopening in 1997, it has served as a premier event venue for all local residents.

We hope to see you there Wednesday!