I've never been a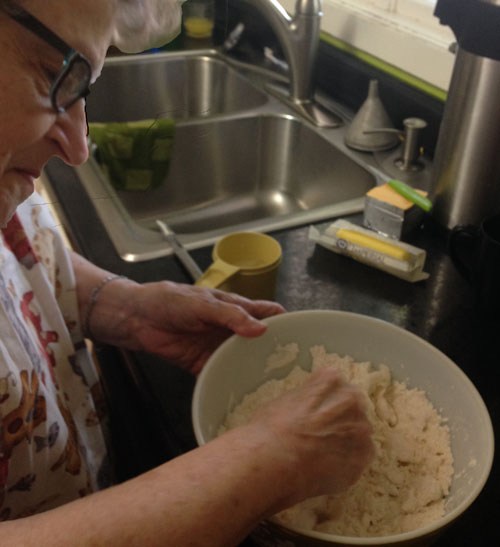 huge fan of fruit pies, but my grandma makes the best apple pie in the universe. Its taste hasn't changed from how I remember it as a child, and it may be the origin of my love for cinnamon. It's the apple pie to which I compare all others. This year on July 4 th, I asked my grandma to show me how she makes it.

Some recipes stay in a family for decades without ever being written down. My grandma's apple pie is one of those. If you ask her how she learned to make it, she'll tell you that she felt like making a pie one day, so she jsut bought some apples and did it. I'm not sure how long ago that was, but growing up I watched my grandma make her pie a hundred times and haven't managed to successfully replicate anything close to that delicious on my own.

Last Friday morning I stood by my grandma's side and attempted to record her method, measurements, and tips. After the pie was put together, baked, and cooled, my family gathered in the kitchen to eat a piece together. There are few things my family can agree on food-wise, but this pie has always been able to bring us back together after a meal. This dessert is something special to all of us, and it will never be forgotten. Now, for the first time ever documented, I present to you my grandma's apple pie recipe. One day, I intend to master its creation. In the meantime, I have plenty of friends who are happy to eat my attempts.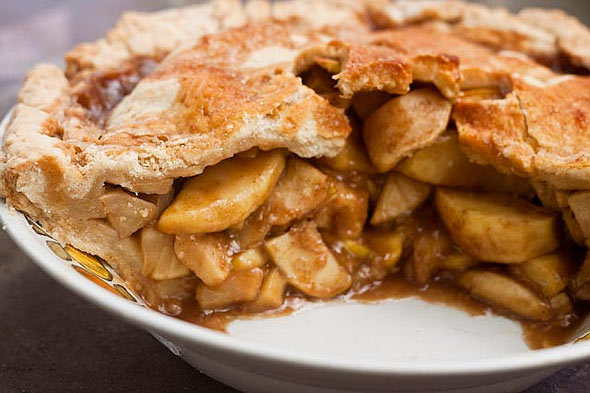 Grandma Richmond's Apple Pie Recipe

Crust:

2 cups flour
½ teaspoon salt
¾ cup shortening
¼ cup butter
Approximately 1/3 cup ice water


Filling:

6 medium Granny Smith apples or approximately 8 cups apple slices
¾ cup sugar
¼ cup flour
¼ teaspoon ground nutmeg
4 tablespoons cinnamon (My grandma uses Vietnamese cinnamon from the Frontier Co-op; no matter how much you use, it never seems to get bitter!)
4 tablespoons butter


Preheat oven to 425 degrees.

For the Crust: Place flour and salt in medium sized bowl. Mix shortening and butter into flour mixture using fingers until flour mixture is coarse. Drizzle water into the mixture a small amount at a time until dough forms. Separate dough into two balls and set aside.

For Filling: Peel apples and cut into thin slices about 1/4-inch thick. Place apple slices in a large mixing bowl and top with sugar, flour, nutmeg, and cinnamon. Mix by hand until apples are coated. (Add more cinnamon if desired!)

Using a floured rolling pin, roll out one of the dough balls on a floured surface to less than ¼-inch thickness. To transfer the dough to the pie pan, rub a small amount of flour on the rolling pin, then place it toward one edge of the flattened dough; roll dough up onto the pin, then carefully roll out the dough over the pie pan. Settle the dough into the pan and pinch or trim excess off sides. Put filling inside the pan, then cut the butter into 6-8 slices and scatter over the top. Roll out the remaining dough and, using rolling pin, transfer dough to pan and place it on top of the filled pie. Pinch together the top and bottom crusts around the edge, crimping in a decorative manner if desired. Make slits in top crust with a knife to allow steam to escape while baking.

Place pie on cookie sheet in case pie overflows; place in oven. Bake for 15 minutes at 425 degrees, then lower temperature to 350 degrees, baking pie for 45 minutes more or until done. Test if apples are soft by inserting a knife through slits in the top crust. Allow pie to cool for one hour before cutting. Enjoy.