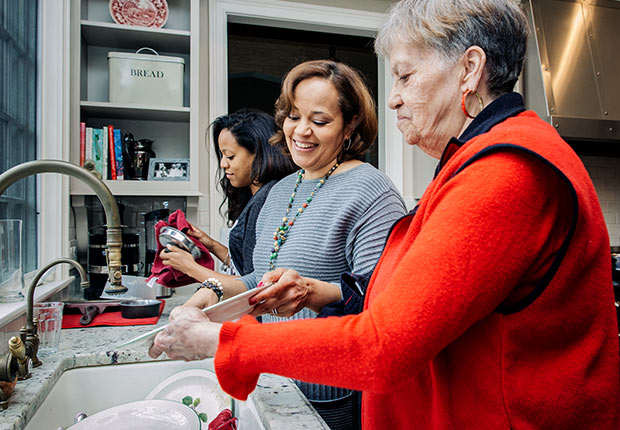 By Ann Hardie

Danielle Nix, of East Atlanta, is plenty smart about money, but she still plans to attend Money Smart Week 2015. The event, being held April 18–25, is a national public awareness campaign offering free educational workshops and activities to help consumers better manage their personal finances.

As one of the sponsors of the initiative, AARP Georgia will focus on what is commonly referred to as the "sandwich generation"—that is, people juggling the competing demands of caring for aging parents and college-bound or adult children.

Nix, 49, a stay-at-home mom, knows all about this precarious spot. She and her husband, Keenan, a lawyer, have one child heading to college in the fall, another currently in college and a recent college graduate living at home again. They also occasionally provide some financial support to Danielle's father, in Texas, and her disabled sister, in nearby Decatur, both of whom are in declining health.

Although the Nixes have been saving for their own retirement, they could be called on to dip into their money even more to help other family members, including Danielle's mom and stepdad, retirees living on a fixed income, who are beginning to have health issues.

"I want to make sure our future is secure, that we are able to maintain what we have now," Danielle said. "It's important to plan so you are not caught unprepared for the unexpected. I want to feel like I have all my ducks in a row."

Begun by the Federal Reserve Bank of Chicago more than a decade ago, Money Smart Week stresses the importance of financial literacy and guides consumers on where to get help.

Workshops and seminars, taught by experts from nonprofits, financial institutions and government agencies, are designed to reach a broad audience.

Attendees range from savvy consumers who may need more information on estate planning to those who are drafting their first budget or buying their first home.

Many of those people are undermining their own retirement, financial experts say.

For example, families struggling to pay the high cost of college may not be putting away enough money for their future. About 7 percent of families with undergraduates dipped directly into their retirement accounts to pay for college in 2014, up from 5 percent the previous year. That practice could not only result in lost savings but also trigger fees and penalties.

A recent study by the Pew Research Center found that nearly half of adults between 40 and 59 years old have an older parent and are either raising a younger child or financially supporting a child over 18. The study found that 27 percent of parents in their 40s and 50s were the primary financial support for their grown kids, while 21 percent were giving some support.

Money Smart Week participants attending AARP events will learn how to use the AARP Retirement Calculator, which estimates how much additional income, if any, retirees will need based on their individual savings, projected Social Security income and lifestyle.

AARP Georgia is offering information on long-term care, too, including how to work with the AARP Long-Term Care Calculator, found at aarp.org/ltccalculator.

Also during Money Smart Week, AARP Georgia will build support for a proposed state law to give more workers a way to have a retirement savings plan through their employers. Currently, more than 1.7 million Georgians, or half of the workers in the state, do not have a way to save for retirement on the job.

Illinois enacted a so-called work and save plan in January, and about a dozen other states are considering similar proposals.

Visit moneysmartweek.org for more information about the event.

Additional resources
Here are some other calculators offered by AARP to help you plan and save.

The AARP Social Security Calculator helps people determine at what age to claim Social Security. Go to aarp.org/socialsecuritybenefits.
The AARP 401(k) Savings Calculator shows how your 401(k) savings and employer match can accumulate over time. Go to aarp.org/401kcalculator.
The AARP Health Care Costs Calculator helps estimate health care costs and account for them in a retirement plan. Go to aarp.org/healthcostscalc.
Ann Hardie is a writer living in Atlanta