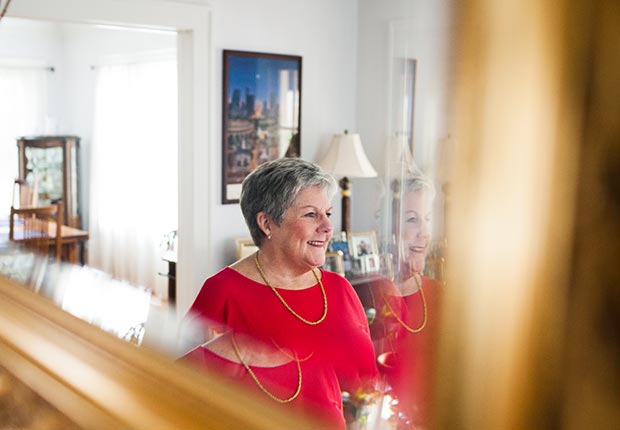 By Drew Jubera

For Joanne Mathis, the road to becoming a volunteer lobbyist for AARP Georgia seemed both predestined and a happy accident.

Mathis was at a Christmas party four years ago, nursing an urge to do meaningful volunteer work, and asked the host for ideas. Mathis had been selling real estate for more than a decade, but before that she'd been involved in social services at a nursing home, managed hospices and served as the state's long-term care ombudsman.

The host introduced Mathis to another party guest who was the director of AARP's volunteer lobbying efforts at the State Capitol.

"And I've been involved ever since," said Mathis, 63, who now spends most weekdays under the Gold Dome in Atlanta when the General Assembly is in session, from January to March.

"Seeing a bill we've worked on get passed, knowing it's going to impact a lot of seniors' quality of life in a positive way, that's it for me," she said.

Among the many volunteer opportunities at AARP Georgia, few have a wider effect than advocating for issues that AARP believes are most important to older residents, such as support for home- and community-based services to help Georgians remain in their homes. The session begins Jan. 12.

"Our volunteers are critical to AARP's advocacy efforts at the state and federal levels," said Greg Tanner, AARP Georgia state director. "They carry the message on issues that impact the 50-plus population to their elected officials and it is through that constituent contact that policy positions are formed and votes are ultimately cast."

For some, dealing with politicians can be an intimidating proposition with a steep learning curve. When the legislature is in session, the Capitol's three floors seem to transform into a Byzantine bazaar of deals, trades and compromises.

To help newcomers navigate the dizzying terrain, AARP provides training that includes how to meet with and present issues to legislators and on which side of each floor various industry lobbyists congregate. New volunteers are also assigned a mentor to help them learn the do's and don'ts firsthand.

Personal stories matter

"It's a very dynamic atmosphere, but the training can help do away with a lot of the intimidation," said Wendell Phillips, 70, a retired Presbyterian minister from Decatur who began volunteering at the Capitol in 2003.

Volunteer advocates who care deeply about issues can be at least as effective as their professional counterparts. This is especially true for those who have dealt with aging issues in their own lives—a relative with Alzheimer's disease, a family member unable to afford in-home care or who has been wait-listed because of funding shortfalls. Those kinds of stories often provide an instant connection with legislators.

"I don't see them as being amateurs," Rep. Tommy Benton (R-Jefferson), who chairs the Human Relations and Aging Committee, said of the AARP volunteers. "They're as passionate about it as if they were paid for it."

The amount of time volunteers spend at the Capitol varies. Members of the four- to six-person "Capitol team," led by AARP staff members, work at least one day a week during the two-month session. Others appear every couple of weeks, or for a single event.

Volunteers come from a wide range of professions. They've included teachers, lawyers, a mechanic and a nuclear scientist. Amid the crush and chaos of each session, they bond over a shared goal: better lives for aging Georgians.

"The Capitol is a rarefied place," Phillips said. "It turns some people off so much they won't go into it again. But once that bug bites, it's tough to get rid of it. It's a challenging, exciting thing to do."

Interested in volunteering for this year's legislative session? Contact AARP Georgia at gaaarp@aarp.org or call 866-295-7281 toll-free.

Drew Jubera is a writer living in Atlanta.