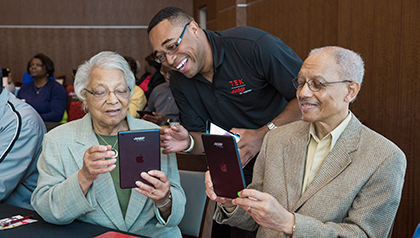 By Drew Jubera

Like a lot of older adults, Ray Howard decided it was time to find out what all this tablet and smartphone talk was about.

So Howard, a 68-year-old retired federal government executive from Smyrna, attended an AARP technology workshop last October at a suburban Atlanta megachurch. About 120 other people showed up, twice as many as had been expected.

The crowd was separated into small groups around tables, each with their own tech expert who patiently explained the fundamentals, from how to turn the devices on and off to the range of available apps—the applications or programs to perform specific tasks.

"I didn't realize smartphones had the memory they have," said Howard, who'd used computers for work but rarely outside the job.

He now has his phone set up to provide the news, remind him of appointments and retrieve family pictures from a vast photo library. "I'd be lost without it," Howard said.

Others who attended the workshop learned how to text relatives, bank online and get alerts for upcoming sales at local stores.

"The digital divide is real," he said, referring to the gap between people who use technology and those who don't," Howard said. "It's kind of scary that so many people are reluctant to get onboard. I think these AARP activities are pivotal in helping people learn the basics. I can't think of anything more valuable to the older generation than to acquire the knowledge and skills necessary to use emerging technology."

Bridging the divide

Bridging the digital divide is the aim of the recently launched AARP TEK program, an acronym that stands for Technology, Education and Knowledge. It provides customized, hands-on, A-to-Z workshops primarily for those 50 and older who are worried that the wave of personal technology will pass them by.

In Georgia, these workshops will be held all year at megachurches and community centers throughout metro Atlanta. At some sites, such as the Word of Faith Family Worship Cathedral, in Austell, AARP plans to hold workshops twice a day every two weeks for the foreseeable future.

"The community is hungry for this type of information," said Tobias Tillmon, AARP Georgia associate state director. "AARP is always looking for more ways to be relevant and this is another way to impact our members. When you're talking about technology, it's not for the future, it's now."

Six in 10 adults age 65 and older now go online, according to a recent Pew Research Center survey. That's a huge jump from the 13 percent who were online when Pew began tracking Internet use in 2000. Yet sizable pockets of people still lag behind, especially among those who are older and poorer.

For instance, fewer than half of the people in the 75-79 age group, and barely more than a third of those 80-plus, are online, the survey found. And while 42 percent of those 65-plus with incomes of $75,000 or more own smartphones, that plunges to 15 percent for those in the $30,000-$49,000 range and just 8 percent among those who make less than $30,000.

"The mystery of going online has diminished, but the real question is what other barriers do they have to overcome," said Laurie Orlov, founder of Aging in Place Technology Watch, a market research firm that analyzes technology use by older adults.

Among the barriers: cost, access and difficulty in finding ways to learn new technology. While many believe the problem will decrease as those under 65, already adept at technology, grow older, Orlov disagrees.

"That is a spectacular myth," he said. "Technological change is happening all the time. The technology you become comfortable with will be obsolete. We're all going to be on the wrong side of the digital divide at some point unless we become motivated to overcome all the barriers."

That's what prompted creation of the AARP TEK program.

"We're trying to get people over those hurdles," said Don Fitts, AARP vice president in charge of TEK. "Once they've done that, they experience a huge amount of freedom and realize this can be useful to them."

To find out about workshops in the metro Atlanta area, call 877-926-8300 toll-free.

Drew Jubera is a freelance writer living in Atlanta.