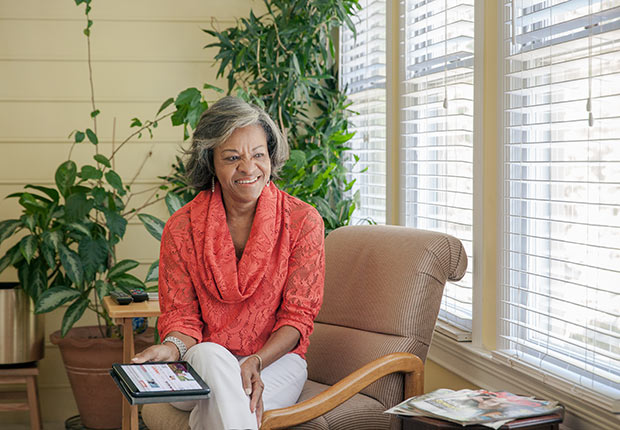 By Novella Cross Holmes

When Carrie Russell retired five years ago, she knew she wanted to do volunteer work in her community, sharing knowledge she had acquired over a 33-year career in banking. But she wasn't sure how to do it.

"I didn't really know what giving back was going to look like," said Russell, 65, of Atlanta. "So I started volunteering for a number of different organizations, until I discovered AARP."

She attended several AARP conferences, including one in Atlanta last year, and signed up for programs making use of her financial experience.

Russell recently participated in an AARP retirement security workshop and presented one for the Fraud Watch Network, alerting people on how to spot scams and avoid identity theft.

"Getting involved with AARP is very fulfilling and, most of all, rewarding," she said. "The Georgia office makes you feel very appreciated. You can walk in and feel that family atmosphere."

Kenneth Fuller, who retired after 28 years as a Navy chief petty officer, began volunteering for AARP in 2011, two years after he recovered from a debilitating stroke that at first left him unable to walk or talk.

"I have always had a passion for working with seniors, even as a child," said Fuller, 58, also of Atlanta. "So I returned to college after 30 years, majored in sociology and concentrated in gerontology, and that's where I learned about AARP."

Tech literacy, caregiving help
Russell and Fuller are among more than 300 AARP Georgia volunteers who share their professional skills and expertise with others by working in a variety of programs.

These programs include workshops on financial security and tech literacy, efforts to develop age-friendly communities and help for family caregivers looking for resources.

Many volunteers in Georgia work on the AARP Driver Safety and AARP Foundation Tax-Aide programs. Last year, 17,207 Georgians took what is now called the Smart Driver course, taught by volunteer instructors. For information on classes and volunteering, go to aarp.org/drive.

During the last tax season, about 850 trained volunteers helped 57,000 people in Georgia file their tax returns. Volunteers are always needed. For more information, go to aarp.org/taxvolunteer.

Fuller, like Russell, has become involved in several AARP Georgia programs, including caregiving and Tax-Aide, volunteering two or three times a month. He also signed up to be an instructor for the Smart Driver course.

Fuller said he likes to think of himself as "a voice for the voiceless. I explain to seniors everything that's available to them."

Russell, who holds an MBA from Georgia State University and retired as a senior bank vice president, enjoys helping people understand their rights as consumers.

She remembers when a woman told her that her debit card was being used without her authorization. The woman, Russell said, tried to file a claim with her bank but was dissatisfied with the response.

"I suggested she go back to the bank, ask for a manager, and request provisional credit until the matter with her checking account was investigated. Her eyes lit up," Russell said.

"That's where my years of experience as a banker paid off. That's my way of giving back — I empowered her with information that I obtained in the financial world. I felt so good."

Russell has some advice for retirees who are still undecided about volunteering.

"If you are looking for a way to give back and be a part of sharing AARP's philosophy and benefits, then AARP needs people like you to volunteer," she said. "It will not only benefit AARP, but it will be beneficial to you as well."

To find more information and to volunteer for AARP programs, call 866-295-7281 toll-free or contact AARP Georgia at gaaarp@aarp.org.

Novella Cross Holmes is a writer living in Savannah.