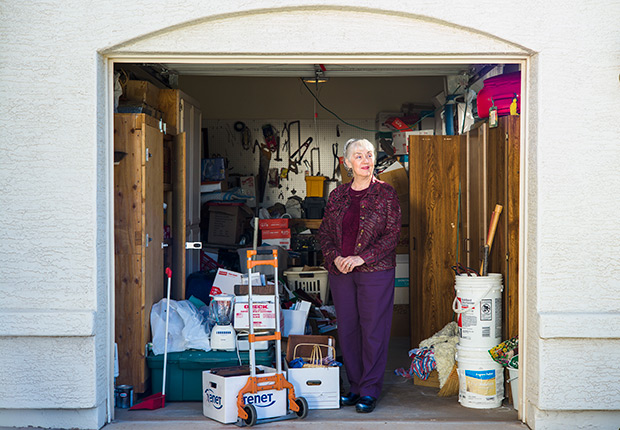 By Miriam Davidson

When Karen Richards of Chandler took AARP Arizona's Life Reimagined Checkup last fall, she could scarcely have imagined how valuable the skills she learned would soon turn out to be.

Within a month, Richards' husband died in his sleep after routine cataract surgery. Then, a few weeks after that, her job as the manager of a health education center was eliminated. Richards, 69, found herself facing two tremendous challenges at once.

But with the tools and training she received from the Life Reimagined Checkup, she has been able to map out a strategy and act on it.

The Life Reimagined Checkup is a free, two-hour, small-group workshop being offered by AARP Arizona. It's part of AARP's nationwide effort to expand access to important skills and resources for people trying to plan their future.

"The checkup is for people who are facing transitions," said Kathy Stevens, former AARP associate state director for community outreach.

"Not just career transitions, but relationship and other transitions that go on in our lives every day," she added. "It gives you a perspective on how to look at these events in maybe a different way."

During the checkup, trained volunteers guide participants through a series of written exercises that enable them to examine the timeline of their lives; assess their abilities, interests and goals; and establish action plans.

As a health care educator who had worked in community outreach, Richards said she found the course energizing.

"The presenters were outstanding and motivating," she said. "They really made you stop and think and want to move forward, rather than succumb to a life in limbo that drags you down."

Richards said she is taking steps now to sell her house and move to someplace smaller. She is also looking for part-time work as well as volunteer opportunities, and she's planning to travel.

"It was divine intervention that I attended the course when I did," she said.

Small-group support
Volunteer facilitator Brad Taft, a consultant from Scottsdale who advises on mid-life career transitions, noted that one of the main reasons for Life Reimagined's success is its reliance on a small-group dynamic. He said studies have shown that people are far more likely to stick with action plans if they have support and companionship than if they try to go it alone.

"A group gives individuals the opportunity to realize, 'Hey, I'm not alone. I'm facing the same challenges other people are,' " Taft said.

He added that hearing how others handled similar situations and made it through, as well as having the opportunity to share information and interact, sets a solid foundation for a person to move forward.

The Life Reimagined Checkup has particular significance for those 50 and over facing transitions in relationships and careers, but facilitators stress that the training is for everyone.

For younger participants, the exercise can help in setting long-term as well as short-term goals. Taft recalled one workshop held recently with residents of an apartment complex who ranged in age from late 20s to early 50s.

"It was very well-received," Taft said. A young single mother who had been through a lot told him: "This has really helped me to focus on what I need to address immediately, as well as making me think about what's going to happen down the road and to prepare for that."

AARP Arizona has trained volunteer facilitators in Phoenix and Tucson to lead your group or organization in a Life Reimagined Checkup.

In Phoenix, contact Brenda Holt at 602-262-5180 or bholt@aarp.org. In the Tucson area, contact Maria Ramirez-Trillo at 602-577-4862 or mrtrillo@aarp.org.

Checkups are free and limited to 15 people. To learn more about Life Reimagined, go to lifereimagined.aarp.org.

Miriam Davidson is a writer based in Tucson.