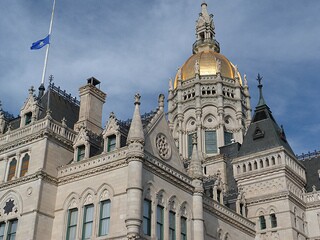 Governor Dannel P. Malloy and Republican Minority Leader Senator John McKinney will be traveling separately throughout Connecticut in the coming weeks to hold a series of town hall meetings.
Gov. Malloy's town hall discussions will be focused on the "pressing issues" impacting Connecticut. Senator McKinney's tour, on the other hand, will focus specifically on the state's economy, "gathering public input" on the state budget that Gov. Malloy recently proposed.
Governor Malloy will hold his first town hall event on Wednesday March 6th from 7-8pm at Middletown City Hall, 245 deKoven Drive in Middletown. The governor's web site will be updated with more events as they are scheduled.
Below is the schedule of Senator McKinney's town halls:
March 11, 7-8:30 pm
Enfield Town Hall Council Chambers
820 Enfield St.
March 14, 7-8:30 p.m.
Stratford, Wooster Middle School Auditorium
150 Lincoln St.
March 18, 7-8:30 p.m.
Wallingford Public Library Community Room
200 North Main St.
March 21, 7-8:30 p.m.
Bristol City Hall Council Chambers
111 North Main St.
March 27, 6-7:30 p.m.
Greenwich Senior Center
299 Greenwich Ave.
April 1, 7-8:30 p.m.
Manchester Town Hall
41 Center St., Manchester
April 8, 7-8:30 p.m.
Danbury, Broadview Middle School Auditorium
72 Hospital Ave.
April 9, 7-8:30 p.m.
Westbrook Public Library
61 Goodspeed Dr.
photo courtesy of bunnygoth