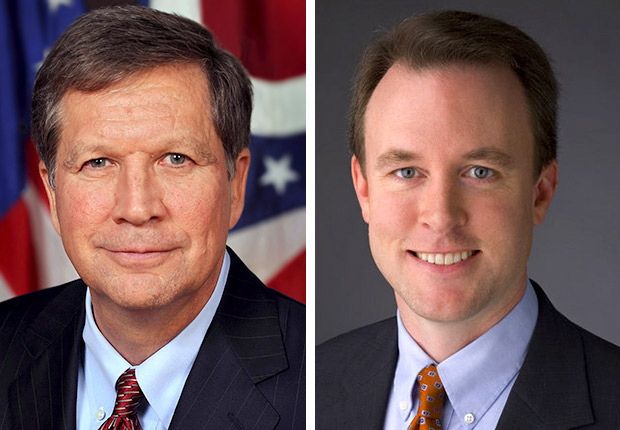 By Ben Lanka

Voters in Ohio will have a critical decision to make this fall in choosing the state's next governor.

Gov. John Kasich (R) and Cuya­hoga County Executive Ed FitzGerald (D) head a ballot that includes candidates for state attorney general, treasurer and secretary of state as well as 17 state Senate seats, all 99 state House seats and all 16 U.S. House seats.

Kasich, 62, served 18 years in Congress before becoming governor in 2011. FitzGerald, 46, previously served as mayor of Lakewood before becoming Cuyahoga County's first executive in 2011.

The candidates have sharply different approaches to tackling issues that affect older residents. Their positions came from their campaigns' emailed responses to questions posed by the AARP Bulletin.

Long-term care: Kasich led Ohio's expansion of Medicaid—a key source of nursing home coverage for low-income older residents—to cover roughly an additional 365,000 people under the federal Affordable Care Act. FitzGerald also supported expanding Medi­caid. The expansion was a top priority of AARP Ohio.

Connie Wehrkamp, Kasich's campaign spokeswoman, said that under the governor, "Ohio is investing more money in community-based alternatives to nursing homes, including the PASSPORT program, providing more seniors the ability to live with dignity in the settings they prefer instead of in higher-cost institutional settings."Ohio's PASSPORT program helps Medicaid recipients get support they need to stay in their homes.

Wehrkamp said Kasich has demanded greater accountability from nursing homes by tying reimbursement payments to the quality of care they provide. She said Medi­caid reforms have saved Ohioans $3 billion since 2011.Lauren Hitt, FitzGerald's campaign spokeswoman, said the growing older population will need more state services, and he would pursue appropriate funding for senior services and care. In addition, she said FitzGerald would restore cuts to the state's local government fund."Those cuts forced local governments across the state to cut their health and human services by 54 percent, on average, hurting some of the services our seniors need the most," she said.Hitt added that FitzGerald "supports a balanced approach that preserves vital long-term care services at nursing centers as well as allows consumers to have the choice of remaining at home."

Telephone service: FitzGerald and Kasich both support a state guarantee for basic landline phone service. AARP Ohio and other consumer groups have pushed for such a guarantee, citing the need of many older people for reliable landlines. The service can be crucial in providing round-the-clock monitoring of people with certain medical conditions.

Financial security: Hitt said Fitz­Gerald would urge restoration of a property tax break for homeowners 65 and older regardless of income. Under Kasich's administration, state law allows all who previously received this tax break to continue to qualify but limits eligibility for new applicants to those with incomes below $30,500.Wehrkamp said Kasich's policies have cut taxes by a net of more than $3 billion across the state, creating a better environment for job creation. This will drive the economy, she said, creating revenue for communities and their services.
For more information on state and federal candidates' positions, consult the AARP Ohio voters guide at aarp.org/yourvote. AARP does not endorse candidates, contribute to campaigns or favor political parties.

Ben Lanka is a writer living in Westerville, Ohio.