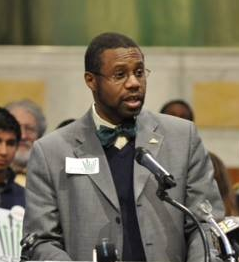 The following guest post is written by Michael J. Wilson, Director for Maryland Hunger Solutions (MHS). The Maryland Food Access and Nutrition Network is hosting it's Fourth Annual "Fighting Hunger in Maryland" conference on September 29. To learn more, read below and register at the Maryland Hunger Solutions website.

Despite being one of the wealthiest states in the country, over 780,000 Marylanders struggle to put food on the table. Statewide, one in eight households faces a constant battle against hunger, and nearly 21 percent of households with children struggle to provide regular, healthy meals for their families.

Hunger also has serious implications for health. Research has shown that children who experience food insecurity are at increased risk for hospitalizations and face more chronic health conditions than children from food-secure families. For older adults, chronic health issues force many to choose between filling their prescriptions and filling their pantries.

As the only statewide anti-hunger policy conference, "Fighting Hunger in Maryland" aims to shine a light on this critical issues of hunger, food insecurity and nutrition in Maryland. On September 29th, over 150 advocates, policymakers and community leaders will convene in Baltimore, Maryland for the annual conference, hosted by the Maryland Food Access and Nutrition Network (MFANN). Now in its fourth year, this year's conference theme, " From The Ground Up," will drive critical discussions around grassroots and community-based anti-hunger initiatives, as well as proven federal and state policy options that address the immediate and long-term impacts of poverty and hunger.

Maryland Hunger Solutions believes that the federal nutrition programs can play a vital role in eradicating hunger. We work tirelessly to expand participation in the federal nutrition programs through local and state partnerships with organizations like AARP to connect eligible individuals to school meals, SNAP and WIC and promote public policies that aim to eliminate the root cause of hunger—poverty.

Please join us on September 29th for the Fourth Annual "Fighting Hunger in Maryland" conference. Together, we can make a real difference in the lives of Marylanders who are hungry.

The Fourth Annual "Fighting Hunger in Maryland" From the Ground Up" Conference takes place September 29, 2014, from 8 a.m. – 4 p.m. at the University of Maryland SMC Campus Center, 621 W. Lombard Street, Baltimore. Tickets are $20 in advance, $25 at the door. For more information and to pre-register, visit the Maryland Hunger Solutions website.