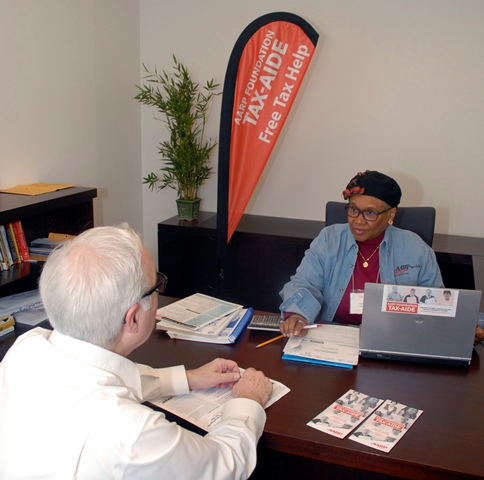 Low-to-moderate-income taxpayers, especially those 60 and over, are served by the AARP Foundation Tax-Aide volunteers at approximately 11 locations throughout Washington, DC. Sites with free tax assistance include libraries and senior centers. Last year, volunteers helped more than 3,110 citizens file their local and federal tax returns. AARP Foundation Tax-Aide is offered in conjunction with the IRS.

"How much of a refund will I get and when will I get it?"

These are two of the most asked questions people have when tax time comes along. Who are the folks looking to the AARP Foundation's Tax-Aide program for assistance?

"In general we're talking about retirees who are on government pensions and/or people who are on Social Security as their primary source of income," says Margie Odle who has been a Tax-Aide volunteer in the District of Columbia for the past three years.

Adele Kidd Daughtry, former Tax-Aide State Coordinator of the AARP Foundation, a longtime government retiree, and recipient of the prestigious AARP DC Andrus Award in 1976, has been preparing tax returns for 20+ years. There was a good reason why she trained to be a Tax-Aide volunteer.

"I was having my taxes done, paying for it and reviewing what the accountant had done. There were mistakes on the return and I had to give them back. I thought, 'If I'm going to have to keep this up I might as well learn to do them myself.' "

And she did.

"I used my whole family, more or less, as guinea pigs and never had any kickbacks from any of them so that's how I got started volunteering for the Tax-Aide program."

What does it take to be a volunteer?

"I think the qualities of patience along with an understanding that you're dealing with an individual's very personal stuff are most important. You want to be sensitive to those who come in and make them feel comfortable. We respect their privacy and the confidential nature of the information they are giving to us," says Odle.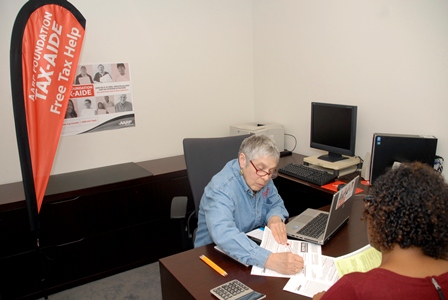 How does one become a Tax-Aide volunteer?

Anyone is eligible and no special skills are required, explains Daughtry. We will train you."

And you don't even have to be a member of AARP or a retiree to volunteer. Training is offered to anyone interested in the program by going to the website, aarp.org/taxaide or by calling 1-888-AARP-NOW (1-888-227-7669), to sign up and indicate that you are interested in becoming a volunteer. The service has grown since 1968, but the Tax-Aide program is still grassroots and continues to help people in their communities with an important, individualized service.

Daughtry has her own formula for recruiting volunteers. "I'm always out and about in my community and I'm always speaking about the Tax-Aide program. Every year I put a blurb in my church bulletin about it and I suggest other counselors do the same, so year round we always have our eyes open looking for people to join us."

"There are so many citizens out there that don't know how to do their taxes. They go to other organizations and wind up paying gross amounts of money and we feel that we're doing them a service free and confidential," Daughtry adds.

"The recruiting period is right now," says Odle. "The training is the second week in December for five days: December 8, 10, 12, 15 and 17. The sessions are from 9 a.m. to 4 p.m. The idea is that with every new crop of people we hope that some of them will want to stick with the program and become leaders so we can recruit the next crop."

"Tax returns are filed electronically but each person goes home with a 'hard copy' of their tax information so that they understand their return has been submitted. Obviously, the forms need to be accurate and at least "two sets of eyes look at every return and go through a quality review," explains Odle.

So what is the payback for Odle and Daughtry? What do they get out of being an AARP Tax-Aide volunteer?

"It's very fulfilling knowing that you've helped people and that they really appreciate it. The AARP slogan is 'Real Possibilities' and that is so true because there are real possibilities to help others in the Tax-Aide program," says Daughtry.

"It's fun in the sense that I am performing a service that people need. Everybody has a story" says Odle. "Last year my very last customer came in at six o'clock on April 15 and was a 92-year-old woman who had a 'W-2,' which means she was still working. I was blown away."

This story was written by AARP DC communications volunteer Rocci Fisch