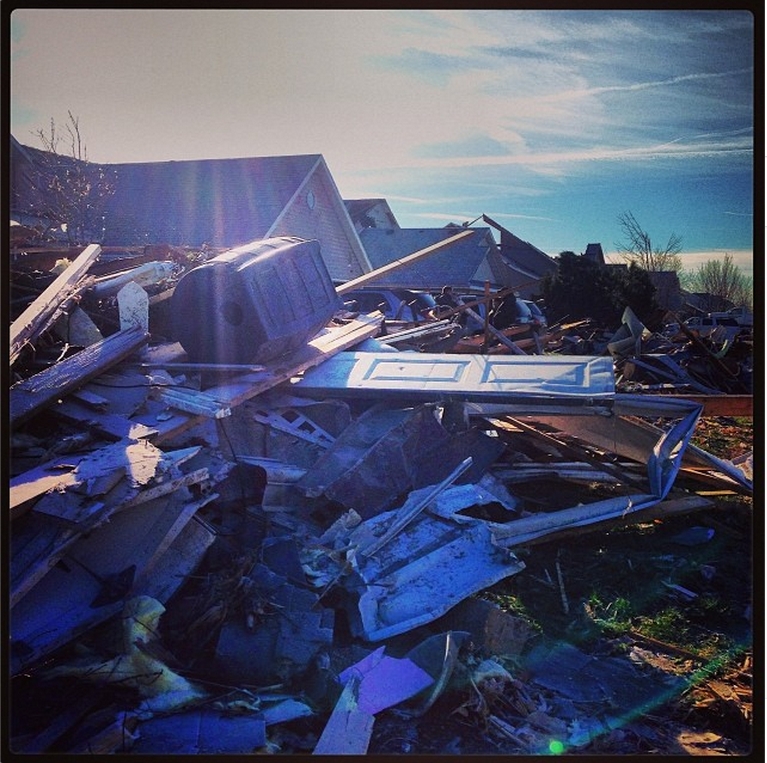 This past weekend was a tough one for many Illinois families. In what will go down in history as one of the worst storm systems to hit Illinois in decades, many people lost everything. The Governor has declared 13 Illinois counties as "disaster areas" including Champaign, Grundy, LaSalle, Massac, Tazewell, Washington and Woodford, Douglas, Jasper, Pope, Wabash, Wayne and Will counties.
With winter weather right around the corner, and falling temperatures on the horizon, cleanup efforts began in earnest Monday. As the saying goes "it takes a village." If you can, please consider making a donation of either your time or money to the tornado victims. Check out the resources below to see how you can help. Be sure to let us know if you hear of other recovery efforts, and we'll be sure to post them on our Facebook and Twitter pages.
How YOU Can Help


Red Cross: 1-800-REDCROSS or visit their website to make a donation. Tell them you want the donation to go to the central Illinois tornado response.

Salvation Army: 1-800-SALARMY or make a secure online donation to the Midwest storms here. You can also send checks payable to "The Salvation Army" to The Salvation Army Disaster Relief, 401 NE Adams Street - Peoria, IL 61603. Please clearly designate "November Tornado Relief" in the memo line.

New Minden's Mayor is seeking volunteers to help with the tornado clean-up efforts. Victims of the storms requiring help, or volunteers willing to assist, should contact Mayor Candy Cross at 618-641-1248.

*NEW from one of our members: "I have been involved with a project here in Central Illinois through the Children's Home Association acquiring personal hygiene products for distribution through their "Keep Sacks" program. It is an outreach to homeless children and their families where each family is provided items (such as soap, deodorant, shampoo, toothpaste, lotion, hair brushes, toothpaste, feminine products, disposable razors, cosmetics, you get the idea) along with a blanket. The Children's Home functions as a type of clearing house to provide the goods not only to their own clients, but also other agencies including Red Cross disaster services and homeless shelters. In October, their supplies had completely run out and they were in desperate need with the approach of another central Illinois winter. I collected at work and had just gotten my church involved with this when the tornadoes hit Sunday. I took more supplies to them yesterday and received an update. They have been distributing the Keep Sacks via Red Cross disaster relief services and were most grateful to receive more supplies. This situation certainly brings home the need to be ready to address the emergencies before they happen. In case you need it, the Children's Home website is chail.org"

Resources if You Need Help


Illinois Emergency Management Agency/Illinois Ready

Central Illinois Agency on Aging: or call 309-674-2071

Champaign County ESDA or call 217-384-3826

Massac County ESDA or call 618-524-2002

Woodford County ESDA or call 309-923-6611

Peoria County ESDA: or call 309-691-3111

Tazewell County ESDA: or call 309-477-2234



 Via the Morris Daily Herald...

The state announced Tuesday that victims of Sunday's tornadoes will be offered some services for the next 30 days at no charge.

Those services are: duplicate certificate of title, duplicate vehicle registration, duplicate driver's license and duplicate state ID card, according to a news release from Secretary of State Jesse White's office.

White said his office will be offering priority title service on titles, duplicate titles and corrected titles. The fees for these services also will be waived. Motorists may apply in person at their nearest Driver Services facility, according to the news release.

A law effective in July 2010 gave that office the authority to waive such fees for residents impacted by natural disasters and living in counties that have been declared disaster areas by the governor. Grundy County is one of 13 that have been given that declaration.

The priority service allows the office to process title requests within two days.

For information, motorists may contact the Secretary of State's general hotline at 800-252-8980. Motorists with questions about the priority title service may call 217-524-7889.

[twitter-timeline id=402911830659432449 username=@nanifu]
Illinois Tornado Help