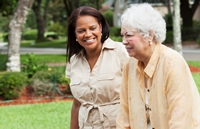 © iStockPhoto\kali9
Caring for loved ones is a 24/7 job with no paid time off. That's one reason why AARP is working so hard to make life just a little easier for those who give so much taking care of others. And that's why we are so thankful to have strong leaders such as Assembly Speaker Vincent Prieto, Senator Joe Vitale, Assemblywoman Nancy Munoz, and Senator Bob Singer, AARP New Jersey's Capitol Caregivers, in our corner. These caregiving trailblazers have been a driving force behind some of the great strides we made for Garden State caregivers in 2014, highlighted with the passage and Governor Christie's signing into law of The CARE Act.

New Jersey became the second state in the nation, following Oklahoma, to support family caregivers with the CARE Act. Once it becomes effective on May 12, 2015, it will support the 1.75 million family caregivers in New Jersey as their loved ones go into the hospital and as they transition home.

What is the CARE Act?

The CARE Act takes three commonsense actions that will make a world of a difference to family caregivers by requiring hospitals to:



Identify a designated family caregiver when a patient is admitted.

Notify the caregiver when the patient is to be moved or discharged.


Provide that caregiver with adequate instruction for the care of the patient following the patient's discharge from the hospital.
Why is the CARE Act needed?

For many, family caregiving is more than just household chores and rides to the doctor. Family caregivers are often asked to perform medical/nursing tasks such as medication changes, wound care, nebulizers and more that can quickly become part of a daily routine.

In fact, 72 percent of family caregivers in New Jersey report performing medical and nursing tasks when caring for a loved one. Even more think hospitals can help by:

demonstrating medical tasks (96 percent)
keeping caregivers informed of major decisions (92 percent)
recording caregiver information upon admission (87 percent)
Fellow family caregivers, remember, you're not alone.

To find the tools and support you need, as well as ways to connect with other caregivers, visit the AARP Caregiving Resource Center.
To stay up to date or get involved with our caregiving advocacy in the states, sign up for the AARP Advocates e-newsletteror visit our state Facebook page: Facebook.com/AARPNJ
Share your caregiving story and hear from other caregivers just like you by visiting: aarp.org/iheartcaregivers