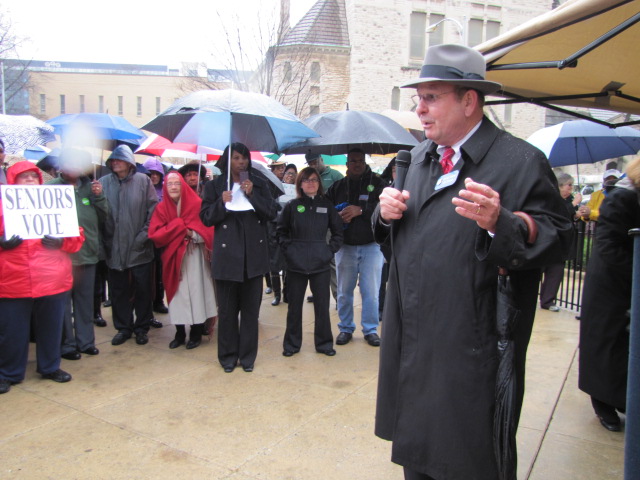 Hundreds of seniors and their advocates rallied Thursday, Feb. 7, at the state Capitol in Atlanta to protest planned state budget cuts affecting senior services.

AARP Georgia joined 14 other groups to host the Be There 4 Seniors Rally and urge the Georgia Assembly to restore cuts proposed to the state's aging support services budget. The cuts, protestors warned, will leave disabled and older Georgians without the services that allow many to remain in the homes and communities they love. The services include community care, adult protection from both physical and financial abuse, and respite services such as adult and mobile day care that allow caregivers time needed to run errands, attend to their own household needs, and refresh themselves.

"When I'm able to improve my quality of life, my mother's quality of life improves, too," said one speaker, a caregiver whose mother has Alzheimer's.

Proposed state budget cuts include:

More than $2.5 million from the Community Care State Medicaid Match (fiscal year 2013).
More than $55,000 from spending for adult protective services (fiscal year 2013) and more than $500,000 for adult protective service in fiscal year 2014.
Nearly $500,000 for Alzheimer's services and respite care services (fiscal year 2014).
Members of the legislature and the director of the Georgia Bureau of Investigation (GBI) joined caregivers and recipients in stressing the importance of protecting older Georgians and their ability to stay in their homes and communities. Legislators included Rep. Tommy Benton (R-Jefferson), chair of the House Human Relations & Aging Committee; Rep. Sharon Cooper (R-Marietta), chair of the House Health & Human Services Committee; and state Sen. Renee Unterman (R-Buford), chair of the Senate Health & Human Services Committee.

GBI Director Vernon Keenan likened the need for adult protective services to the need - now widely recognized - for protective services for children. He recalled for the audience the many strides made in the past few decades to toughen and extend protections for children. "That's where we need to get to now for our older residents," he said.

Despite steady rain and temperatures in the low 40s, Thursday's rally attracted roughly 300.

(Photo: GBI Director Vernon Keenan addresses Thursday's Be There 4 Seniors Rally, stressing the need for strong adult protective services.)