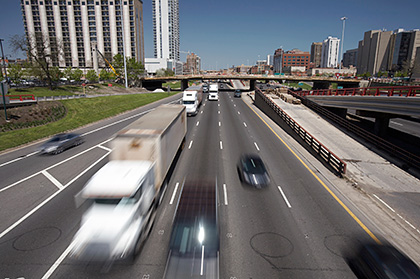 By Kelly Soderlund
Cars have changed a lot since Ken Murphy was driving a 1936 Ford at the age of 16.

The 84-year-old Itasca resident now drives a 2013 Acura TL. It would be an understatement to say the newer vehicle is different in many ways from that Ford. And Murphy is a different driver than he was at 16.

Murphy and his wife, Jeanne, 83, signed up for the new AARP Smart Driver Course to lower their insurance premiums, which will drop by $153 each year for three years. In the process, they increased their knowledge about safe driving.

"We learned a lot of the new rules and laws, how cars are changing and how we as drivers are changing in age and in reaction," said Murphy, who attended the course at the Elk Grove Village Public Library in January. "It was an excellent course and I enjoyed it."

The course is a revamped version of classes that AARP volunteers have taught since 1979. It's designed to help drivers over 50 stay updated with driving laws and new technologies inside and outside of vehicles.

"The older we get, we have to be prepared to handle those types of changes, and some of them are easy and some of them are not," said Harold Sterling, 71, of Schaum­burg, a regional coordinator for AARP Driver Safety.

Participants learn safety strategies, get a refresher on road signs and rules, and are taught how aging, medication, alcohol use and other health-related issues can affect driving ability. The course also helps participants determine whether it's safe to drive at night or in bad weather, and plan for when driving is no longer an option.

"What you're saving is the possibility of not having a ticket, not being involved in a crash or, worst-case scenario, being involved in a crash that involves injuries or fatalities," Sterling said. "If we can keep that from happening, that's what this class is all about."

Geared to older drivers
To revamp its course, AARP Driver Safety partnered with Eastern Virginia Medical School to research what affects older drivers the most. Input was provided by a National Older Driver Safety Expert Panel, chaired by MIT AgeLab.

Like the Murphys, many Illinois residents enroll in the Smart Driver Course to receive a discount on their auto insurance. In Illinois, drivers have to be 55 to be eligible, and it's up to the insurance companies to determine the discount, Sterling said.

The eight-hour course is typically taught in two four-hour sessions. It's held all over the state at senior centers, park districts, retirement homes, police departments, libraries and other public facilities, and it's also available online, Sterling said.

The volunteer instructors must have had an active driver's license for the past two years, go through a training course and be approved by the Illinois secretary of state's office, Sterling said. Last year, 15,255 people participated in the course, which is available in English and Spanish.

The classes are geared toward people 50 and older but younger drivers can also enroll. The classroom courses cost $15 for AARP members and $20 for nonmembers. Online classes are $17.95 for members and $21.95 for nonmembers.

April is National Distracted Driving Awareness Month. The online course is 40 percent off from April 1 to April 30 with the promotion code APRIL40. To register for the online course, go to
aarpdriversafety.org
.
To find a class near you, go to aarp.org/drive or call 888-227-7669 toll-free.
Kelly Soderlund is a writer living in Bartlett, Il.