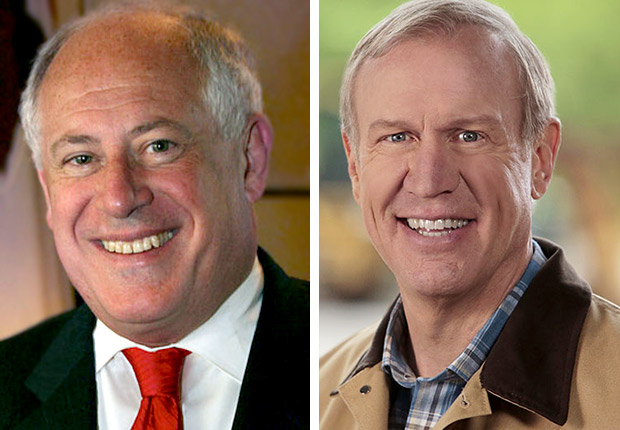 By Lisa Bertagnoli

In Illinois, money matters. The state's race for governor, a choice between Democratic incumbent Pat Quinn, 65, and Republican businessman Bruce Rauner, 58, "is not as much about general ideology as it is about the fiscal condition of the state," said AARP Illinois state director Bob Gallo.

Gallo noted that Illinois lacks $100 billion needed to fund its pension obligations to public workers. Quinn's pension reform bill, which he signed at the end of 2013, was challenged by several unions, and the issue is now in court.
While pension funding and budget issues overshadow the race, there are other issues important to older voters: retirement savings, help for caregivers, support for home- and community-based services for older adults, and the future of phone service. Here's how the campaigns, responding by email, answered questions from the AARP Bulletin on these issues:

Saving for retirement. More than half of all private-sector workers in Illinois don't have access to a savings plan offered by their employer. The Illinois Secure Choice Savings Program would provide an individual retirement account (IRA) program for companies with more than 25 employees that have been in business at least two years. The legislation has passed the Senate and is pending in the House.Rauner supports "efforts to increase retirement savings options for all Illinois workers," but his campaign did not respond to repeated questions about whether he supports the Secure Choice program. Quinn supports the program and points out that Illinois does not tax retirement income: "I will stand up for seniors against a retirement-income tax."
Help for caregivers. About 2 million state residents provide care for an older adult relative or friend, according to an AARP Public Policy Institute report. This unpaid care was worth almost $19 billion a year when valued at $10.35 per hour.Quinn said the state should "be investing in policies that save the state money in the long term." Rauner said he would work with "hospitals and other key medical providers to identify common-sense solutions to improving the quality of care."
Home- and community-based services. Quinn said his administration has successfully moved more than 2,000 older people out of nursing homes and into the community and that he has rebalanced spending in favor of home- and community-based services. Rauner has said he would "pursue strategies that increase access to home and community care."
Phone service. With the growth of mobile phones and phones using the Internet, the Federal Communications Commission has agreed to let several phone companies test the feasibility of moving away from landline service. Doing so raises concerns for the nearly 7 percent of adults nationwide who depend exclusively on landlines.Quinn said, "Vulnerable older adults who rely on landline service will remain a priority to me." Rauner said he would work with groups to "make sure the state takes an active approach to telecommunications access issues."
Taxes. In 2011, Quinn and the General Assembly raised the state income tax to 5 percent from 3 percent in order to cover a $13 billion budget shortfall. Quinn wants to maintain the increase, which expires Jan. 1, 2015; Rauner favors abandoning it.
AARP does not endorse candidates, contribute to campaigns or favor political parties. Learn more about federal and state candidates' positions from the AARP voter guide at aarp.org/yourvote.

Lisa Bertagnoli is a writer living in Chicago.