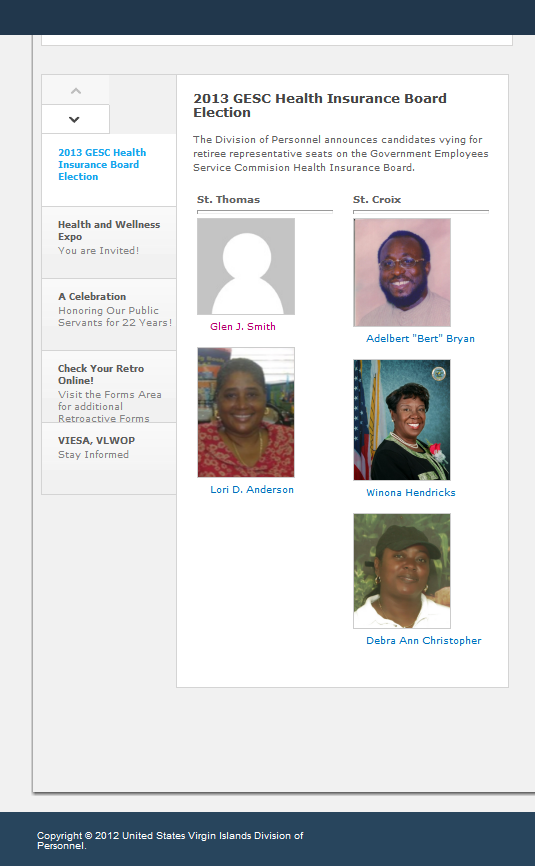 We will soon have the opportunity to vote for two individuals to represent their interests on the Government Employees Service Commission (GESC). The election will be held on May 14 and May 15, 2013.



This Commission is the body that negotiates for both active government employees' and retirees' health insurance benefits with some of the country's major insurance carriers each time the contract comes up for renewal. In 2012, the Virgin Islands Legislature passed a law increasing the board from seven to nine members, with the two new members to be government retirees from each district. According to legislative history the measure was supported by Senators who advocated for increased participation of retirees for decisions that affect them.



It is particularly important for retirees to pay special attention to this upcoming election because the health insurance industry trend is to target coverage directly at active employees and remove retirees from the plan altogether.



Leaving the plan may be good for some retirees. However, it may not be good for any retiree between the ages of 50 and 64 who have no Medicare coverage. Currently, health insurance policies for people age 50-64 are limited. While the situation may change, each retiree needs to meet the people who are trying to represent them on the Commission. In order to protect government retirees, especially those 50-64, it is critical that strong leadership and representation find its way to the GESC Board.



There are six candidates seeking seats on the board: Glen J. Smith and Lori D. Anderson are the St. Thomas/St. John district candidates. St. Croix Board of Elections Chairman Adelbert Bryan; V.I. Board of Education member Winona Hendricks; and Debra Ann Christopher are the retiree candidates in the St. Croix district.



According to the Division of Personnel, the entity tasked with overseeing the elections process, there will be a videoconference Candidate Forum on May 3, 2013 from 5 p.m. to 7 p.m. It will be broadcast from St. Thomas at the University of the Virgin Islands Administration Building Room 142, and linked to UVI's Great Hall on St. Croix. The Personnel Division is expected to provide more details on the voting process.



To stay abreast of the GESC elections and to learn more about AARP's voter education efforts, be sure to check back to this site: www.aarp.org/states/vi. Feel free to share your comments regarding this topic via our Facebook page follow us on Twitter! Join the conversation on Twitter on the elections days by using the following hashtag: ##gescvote2013, #gescvota2013 (en Español).