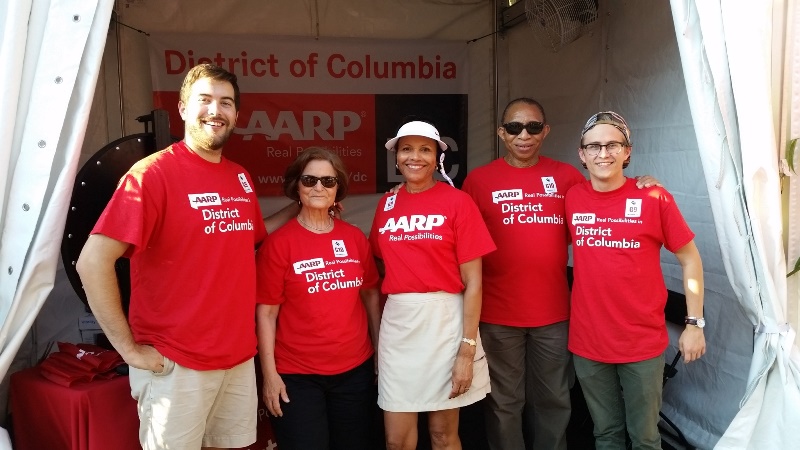 AARP District of Columbia is recruiting for several volunteer opportunities. Looking for an ongoing volunteer experience or a one-time-ONLY activity to put on your schedule? Then check out the list below that can be shaped to suit your schedule. Adults of any age can volunteer with AARP. Please see the volunteer opportunities below. There is a contact person provided for each opportunity.

NEW! Volunteer at the 2016 Citi Open: AARP DC is back for a second year at Citi Open. AARP will have a booth with staff and volunteers who engage tennis fans in games and contests for an opportunity to win lots of prizes. You also can volunteer at the AARP tennis clinic, taught by one of the top tennis coaches. Held at the Rock Creek Park Tennis Center, Citi Open draws the top-seed tennis players for a week-long tournament with a crowd of more than 50,000 people. Who knows, you might see an international tennis star stroll by. Show your "love" for tennis and volunteer at the 2016 Citi Open. Contact: Tucker Rush at Turush@aarp.org or (202) 434-7700.

Communications/Writer Volunteer: Write content that will be used for blog features, email updates and some internal reports. AARP activities where written content will be needed includes workshops, local member offerings, special events, training meetings, and advocacy activities focused on legislative policy priorities. Contact: Brenda Siler: Bsiler@aarp.org or call: (202) 434-7711

Social Media Volunteer: Develop content about the DC State activities for social media channels that include the AARP DC blog, Twitter and Facebook accounts. Social media content will support the AARP DC projects and initiatives. Contact: Brenda Siler, Bsiler@aarp.org or call: (202) 434-7711

Volunteer Advocates: Support AARP DC's legislative policies by volunteering to position our issues before the City Council of DC, community groups, and AARP Chapters. Advocates must maintain a non-partisan position when representing AARP. Most of the activities performed by AARP Advocates occur on weekdays. Training is offered. Contact: Ivan Lanier, ILanier@aarp.org or (202) 434-7715

Community Volunteer Generalist: There are several AARP DC activities scheduled throughout the city. Volunteers are needed to staff AARP Information booths and tables, to check-in registrants at events, to assist at the AARP DC State Office in preparation for upcoming events around the District. Contact: Jocelyn Daughtry, JDaughtry@aarp.org or call (202) 434-7722

Bilingual Community Volunteers: Do you speak Spanish or Mandarin? AARP DC seeks bilingual volunteers to deliver AARP information to Hispanic and to Asian-American communities within the District. The types of AARP information and presentations include Age-Friendly DC, AARP DC legislative priorities, fraud prevention, financial security, caregiving, and AARP member benefits. We also need bilingual volunteers to staff AARP DC information tables at various events. Contact: Jocelyn Daughtry, JDaughtry@aarp.org or call (202) 434-7722

We look forward to you joining AARP DC in serving the District's 50+ residents and their families.