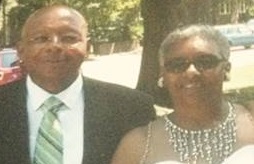 In 1991, Helen and Wallace met like many people do, having a brief conversation that was pleasant but never bloomed into romance. Twenty-five years later, they reconnected and found love through volunteering.

"I couldn't have picked a better way to spend the rest of my days," said Helen Clark-Turner.

The couple first met at a singles ministry in Wallace's church. Helen and a friend went to the event, where she first briefly met Wallace. Helen's friend decided to date, and later marry, Wallace. In fact, Helen was the maid of honor in the wedding.

Helen went on to marry, but was widowed in 2000. Never thinking she would remarry, she spent her free time with her daughter, volunteering in the community and being active in her church.

In 2014, Helen learned of her friend's passing, and attended the funeral to pay her respects. Several months later, she saw Wallace waiting for a bus and offered him a ride. They talked and Wallace admitted he was lonely. Helen invited him to volunteer for AARP with her, so he could engage with other people and give back to the community.

During volunteer events with AARP Pennsylvania, Helen introduced Wallace to other volunteers, looking for ways to keep him active.

It was only after spending time together while volunteering that they realized how much they had in common.

"We have fun. We laugh a lot. We go for walks. We actually did a duet together," says Helen Clark-Turner.

Their love blossomed over time, strengthened by their commitment to serve the community. Other AARP Pennsylvania volunteers have taken encouragement from their romance, noting that you're never "too old" to find love.

The couple, who will be celebrating their 6-month anniversary the day after Valentine's Day, are keeping busy and looking forward to laughing for the rest of their days.

If you'd like to be a volunteer for AARP Pennsylvania, contact us using the form below.

[contact-form to='paaarp@aarp.org' subject='Interest in Volunteering with AARP PA'][contact-field label='Name' type='name' required='1'/][contact-field label='Email' type='email' required='1'/][contact-field label='Comment' type='textarea' required='1'/][/contact-form] .

*Photo permission: Helen and Wallace Turner