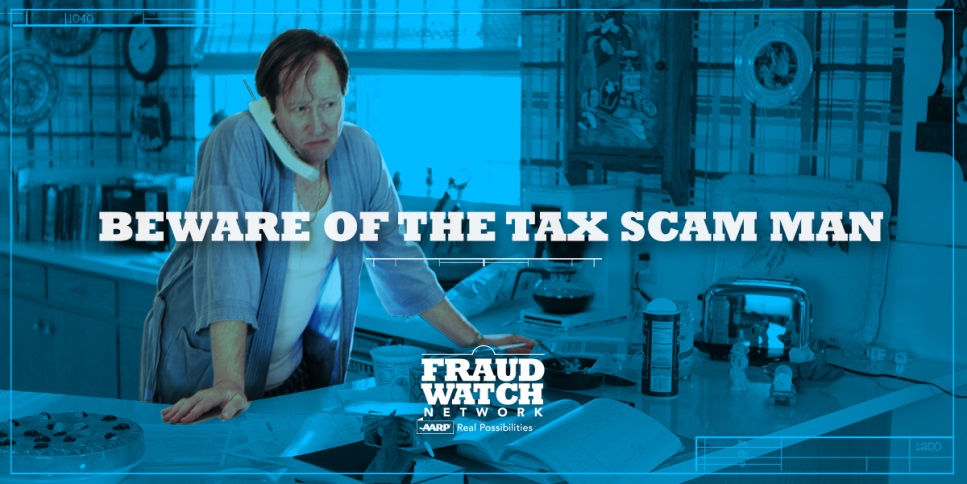 To coincide with Tax Identity Theft Awareness Week, which runs Jan. 26-30, the AARP Fraud Watch Network is launching an educational effort to help people protect themselves from tax scams by releasing a new video and a scam prevention tip sheet—and encouraging people to take advantage of AARP's free tax preparation services.

Many taxpayers put themselves at great risk of tax identity theft, according to a national study conducted last fall by the AARP Fraud Watch Network.

"Throwing a pay stub in the trash may seem easier than finding a shredder, but the risk of having your tax refund stolen is just too great," said Mike Festa, state director, AARP Massachusetts. "In addition, the Fraud Watch Network is urging all Commonwealth residents to file early so you can beat con artists to the punch."


According to a report issued by the Federal Trade Commission, Massachusetts ranks 27 th across the country in ID theft complaints. In a typical identity theft scheme, scammers electronically file a tax return under someone else's name to collect their tax refund. To do this, all scammers need is a birthdate and Social Security number—items that many taxpayers make all too accessible by:

Failing to use a locking mailbox. Almost six in 10 (59%) Americans do not use a locking mailbox, which offers criminals an easy way to steal bills, tax forms, and other documents that contain personal information.
Leaving valuables exposed. More than half (54%) of Americans ages 18-49 have left at least one valuable personal item in their car in the last week (e.g., a purse/wallet, paystub, laptop) that could be used to steal their identity, according to results from the Fraud Watch Network national study.
Failing to destroy personal information. More than one in five (21%) Americans say they never shred any of the personal documents that could be used to steal their identity.
---
Follow These 5 Tips to Protect Yourself From Tax Identity Theft:
1. Mail tax returns as early in the tax season as possible before the con artists beat you to it.

2. Don't give out personal information unless you know who's asking for it and why they need it.

3. Shred all personal and financial documents.

4. Know your tax preparer.

5. Stay apprised of identity theft rings and scams in Massachusetts by frequently checking the Fraud Watch Network Fraud Map, where you can also report scams. You can also sign up for email Watchdog Alerts, which will inform you about the latest scams.

For these and other fraud prevention tips, visit aarp.org/fraudwatchnetwork. For additional help, contact the IRS Identity Protection Specialized Unit at 800-908-4490 and visit irs.gov/identitytheft.


---
AARP Foundation Tax Aide
Massachusetts residents are also encouraged to learn more about AARP Foundation Tax Aide, the nation's largest free, volunteer-run tax preparation program. Each tax season, Tax Aide helps millions of low- to moderate-income taxpayers – especially those 60 and older – get the credits and deductions they deserve. Call 1-888-227-7669 for information about Tax Aide in your area.