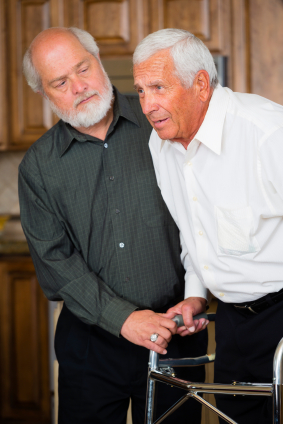 Your father protected you when you were young. He helped you shoo away the scary monsters under the bed and chased away the tears after those endless rounds of childhood shots. More often than not, he probably put your well-being ahead of his own.

This June, when we honor fathers, put your Dad first. Learn about the preventive screenings and vaccines men 50 and older need to stay healthy. Then talk with your Dad and tell him how important it is to you that he gets screened and is up to date on his vaccinations. Likewise, if you have caregiving responsibilities for an older man, make sure he is taking advantage of the benefits his health insurance provides. AARP's interactive Health Law Guide, at www.aarp.org/healthlawguide, will show you how the health reform law may benefit the men in your life.

The ABCs of Screenings for Men[1]

Abdominal Aortic Aneurysm: Smokers, whether past or current, between the ages of 65 and 75 should talk to their doctor about having an ultrasound to screen for an abdominal aortic aneurysm (AAA). Often symptomless, an abdominal aortic aneurysm can be deadly if it ruptures
Blood Pressure: Another danger with few symptoms, high blood pressure impacts more than one in three adults and can lead to stroke or heart failure. Blood pressure is considered high if it is 140/90 or greater. Screening should be done at least yearly.
Cholesterol: High cholesterol can indicate a risk of heart disease, stroke and poor circulation. To ensure an accurate reading, healthy adults should be tested at least once every five years.
Colorectal Cancer: Colorectal cancer occurs when abnormal cells grow into tumors or attack healthy tissue in the colon or rectum. Currently, there are at least five tests a doctor can perform to detect the disease. Age, family and medical history, in conjunction with overall health, can help determine how often a man should be screened for colorectal cancer.
Depression: Emotional health is as important as physical health. While there are many forms of depression, a depression screening is recommended for individuals who have periods of sadness or hopelessness that interfere with daily life or occur for weeks at a time.
Diabetes: A screening for diabetes (high blood sugar) is recommended for those with blood pressure higher than 135/80 or for anyone taking high blood pressure medicine.
Obesity: A person's body mass index (BMI) is an easy way to determine whether he or she is a healthy weight. Use a BMI calculator, http://aarp.us/pOrnZF to help your loved one determine theirs.
Immunizations are important protections too.

Get a flu shot every year.
Get routine booster shots for tetanus, diphtheria and whooping cough.
If your relative is 60 or older, get him a one-time shot to prevent shingles; if he is 65 or older, a pneumonia shot is recommended.
It is your turn to protect your Dad. Encourage him to discuss his medical history with his doctor. And find more information on how to support an older parent at www.aarp.org/caregivers. Also, learn how people can stay healthy at age 50-plus at www.aarp.org/menchecklist.




---
[1]
Information on necessary screening and shots was prepared by the U.S. Department of Health and Human Services, U.S. Preventive Services Taskforce, and the Agency for Healthcare Research and Quality.