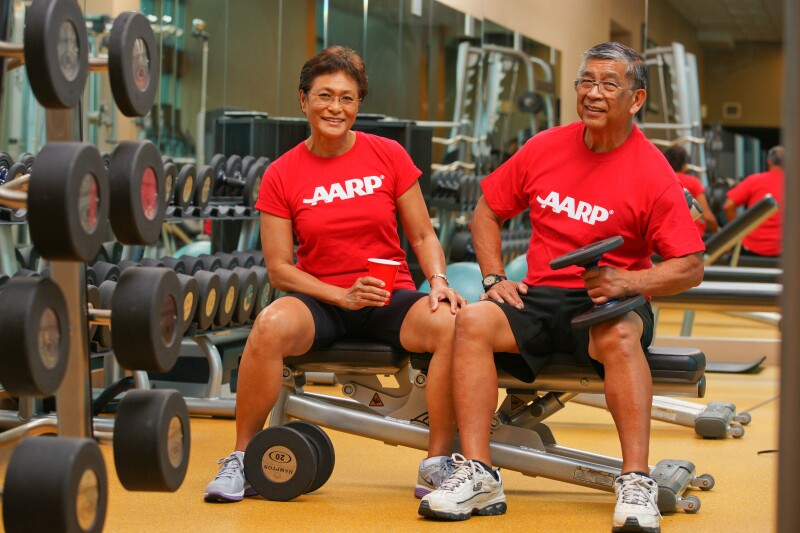 As weight-lifters and models for fitness, Arnold Pereza, 70, and his wife, Leona, 67, are impressive advocates for "aging in place" homecare and a healthy, active lifestyle.

They are also among AARP volunteers talking to state legislators about the Association's priorities for residents 65 and older who will need long-term care services in their lifetime—an estimated 70 percent.

The Perezas, celebrating their 50 th wedding anniversary in March, became caregivers for Leona's mother, father, brother and sister when the only alternative was a nursing home. "Being caregivers is a 24/7 task," Arnold said, stressing the need for a support group for caregivers and a resource center where families can seek help.

For 25 years Leona has also directed a homeless ministry for her church, serving meals monthly at Aala Park with the help of family and other church members. "We have seen the faces of homelessness change from the young to more elderly who are having difficulty surviving on fixed incomes due to the ever-escalating cost of living," she said. "We understand what the needs are and are advocating to help others with needs."

Arnold, born on Maui, retired 20 years ago as a journeyman glazier and took up weight lifting to stay healthy and fit. He recently set a world record for the bench press in his age group at the world championship in Las Vegas.

Leona retired from pediatric nursing after 34 years and at age 57 pursued a new career as a social worker. Graduating with her masters, she now works at Shriner's Hospital for Children in Honolulu. Forced to give up running after surgery for a hip injury, she also became a weightlifter, winning trophies and the Hawaii state record in the bench press.

The physically fit couple joined AARP about ten years ago and today enjoy demonstrating the importance of remaining active and healthy.

This legislative session they're working with other AARP volunteers seeking support for the Kupuna Care program, the Aging and Disability Resource Centers, and a public long-term care program in Hawaii.

Says Leona: "Everyone is a winner if we can urge legislative action to support these programs, thereby allowing seniors and the disabled to remain in their homes for as long as possible and balancing money spent on institutional care."

A new survey exploring the views of older Hawaii residents on long-term care shows that nearly two-thirds (64 percent) of people 50+ are not confident they can afford to pay for one year in a nursing home. The survey is available for public review at http://www.aarp.org/Hawaiilongtermcaresurvey2013

AARP empowers you to pursue your goals and dreams.

###