2013 General Assembly - AARP Kentucky Statement: Preserve Public Pensions


AARP Kentucky State Director Ron Bridges joined with firefighters, police officers, teachers, nurses and other state employees in their call to the General Assembly and Governor Steve Beshear to ensure these workers have the adequate resources they need to be financially independent in retirement.
"AARP was founded with a clear vision: A society in which everyone has the opportunity to age with dignity and purpose. That's why we're standing with Kentucky's teachers, firefighters, police officers, nurses, and health care workers who faithfully serve the Commonwealth's citizens. After a lifetime of hard work, paying their fair share on time and in full to the pension system, retirees deserve peace of mind and retirement income they can count on.
Instead of raiding the pensions of hardworking Kentuckians, politicians need to keep their promise to workers by making the required pension payments. We can't change the rules at the end of the game for state workers, especially when they didn't cause this problem.
The General Assembly's Task Force on Kentucky Public Pensions has dutifully completed its charge to study and send its final recommendations to the full legislature and Governor Beshear. Now it's time for the conversation to begin and to make certain that all Kentucky voices are heard.
Politicians have developed a habit of using the retirement savings of state workers as a piggy-bank for other government spending.
On behalf of our state's 460,000 thousand members, AARP is committed to ensuring that any reforms made to state pensions safeguard the financial security of current and near-retirees – many of whom do not have the opportunity to pivot their retirement strategy.
We urge the General Assembly and the Governor to engage in a bi-partisan and robust conversation on the Task Force's recommendations. Working together, we must find long-term sustainable solutions which limit exposure for existing retirees and long-term state employees."
Download the full statement (PDF): AARP_KY_Statement_Pension_Reforms_1-10-13_Final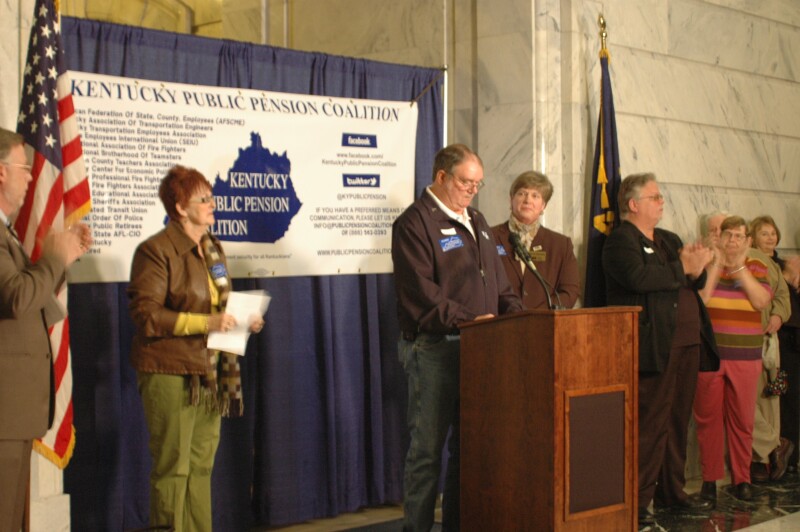 More on Kentucky Public Pension Coalition. Go














http://youtu.be/KmtEv2fd8o4[/youtube]