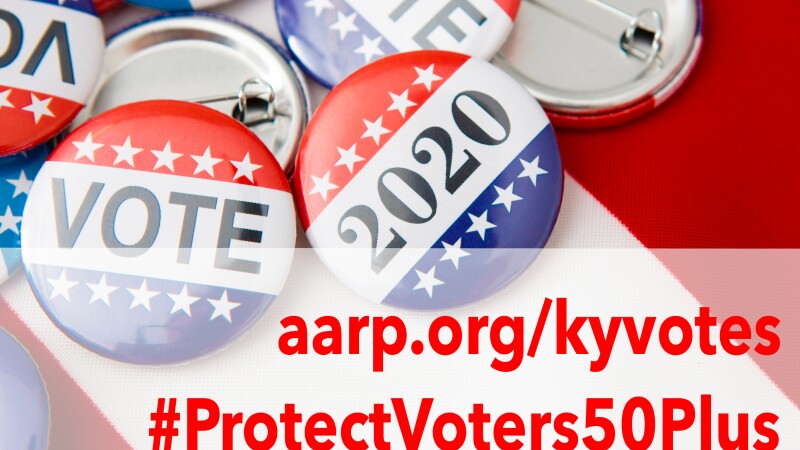 Voting Safely in Kentucky - Made Easier

Kentuckians concerned about COVID-19 risks can once again safely vote from home or cast their ballots early for the Nov. 3 election. That's thanks to a bipartisan agreement forged over the summer by Kentucky Governor Andy Beshear (D) and Secretary of State Michael Adams (R) that eases voting restrictions because of the pandemic.

"Secretary Adams and I were able to put partisanship aside and develop a plan for the general election that puts the health and safety of Kentuckians first," Beshear said.

Under the deal, any voter can request an absentee ballot and either mail it, postmarked by Nov. 3, or deposit it in a drop box. All voters are also eligible for early in-person voting, which begins Tuesday, Oct. 13, and will take place weekdays plus at least four hours every Saturday until the election.
See more key dates to help you make a voting plan at aarp.org/KYvotes

Every county will have at least one drop box as well as one voting super center, where everyone from the county can vote, regardless of their precinct.

Normally, absentee voting is limited to certain individuals, such as those who are ill or with disabilities, and there is no universal in-person early voting.

Given the uncertainty over mail delivery, AARP urges voters to request and cast their ballots—whether by mail, drop box or in person—as early as possible.

AARP Kentucky praised the compromise by Beshear and Adams.

"We are thankful that both heard our call on behalf of voters 50-plus and for taking action to make sure older voters, whether they are working parents, family caregivers or residents in nursing homes, can vote safely," Charlotte Whittaker, 71, of Hartford, AARP Kentucky's volunteer state president.
Charlotte Whittaker, AARP Kentucky State President
The decision comes after the state's successful June primary, for which voting restrictions were eased because of the COVID-19 crisis. Absentee ballots accounted for 75 percent of all votes—up from a traditionally low average of about 2 percent.

"I don't think we'll ever go back to having 2 percent," Adams said. "Voters realize how easy it is to do. They have confidence that it works."

He expects about a 70 percent turnout of the state's 3.4 million registered voters next month—driven by the presidential contest and the high-profile U.S. Senate race between Majority Leader Mitch McConnell (R) and Democratic challenger Amy McGrath.

Learn more at aarp.org/KYvotes

Vince McKelvey is a writer living in New Lebanon, Ohio.