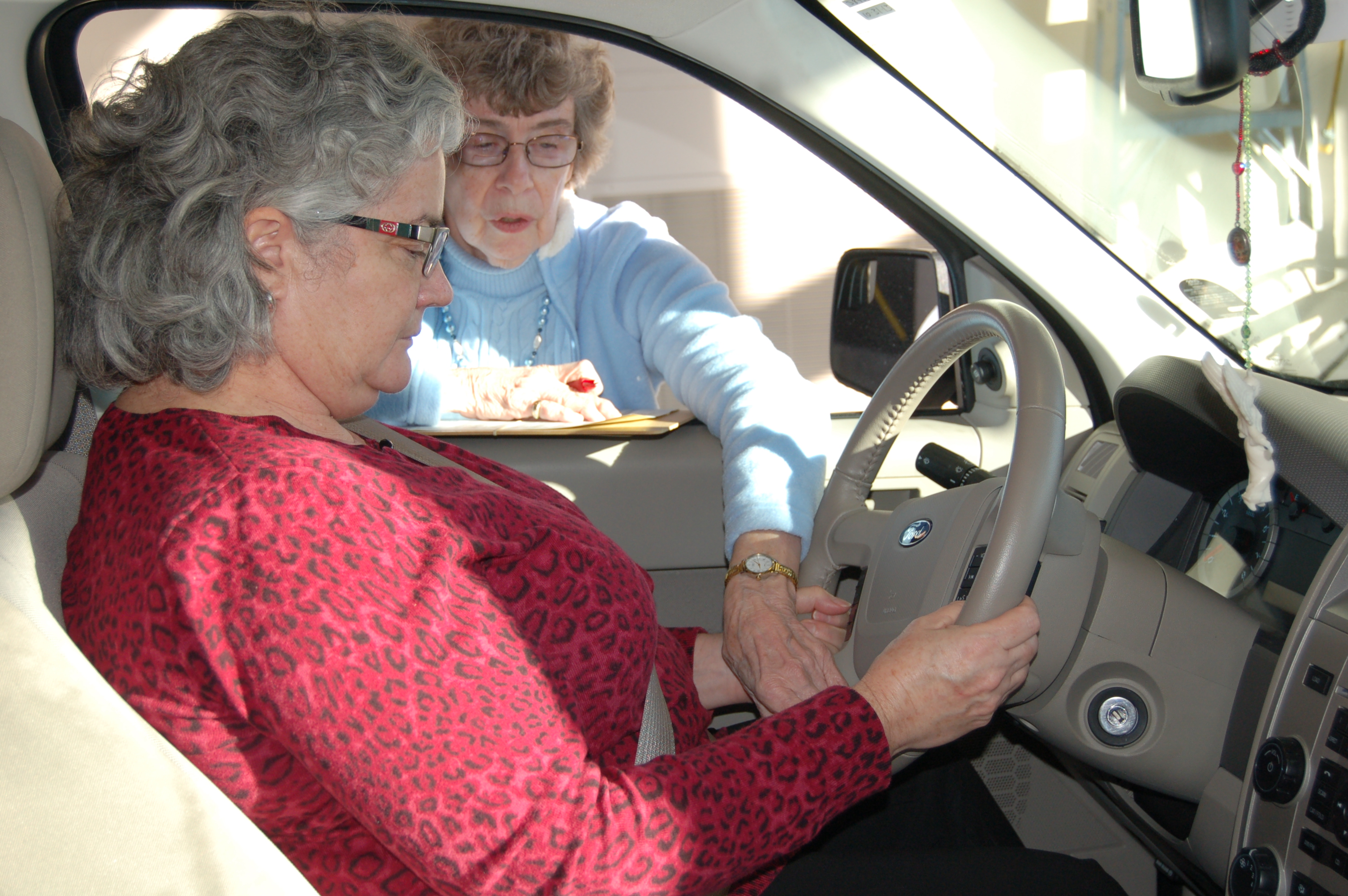 As she sat in the driver's seat of her brand new SUV at a recent CarFit event in Middleton in mid-January, Mariann Muzzi couldn't help but laugh as she recalled the last time she purchased a new car 17 years ago.

That vehicle had hand-crank windows, no automated seat adjusters, and no CD player. Needless to say, Mariann was a little intimidated by all the bells and whistles in her SUV.

Not only have vehicles changed drastically over the years, but so have drivers. As we age, slight physical changes in our vision, flexibility, strength, range of motion and even height may make us less comfortable and reduce our control behind the wheel.

Knowing your car better and making sure you feel safe and comfortable while driving is not just a good idea. It could actually save your life. And that's what CarFit is all about.

CarFit events, which are free and held all across Wisconsin and the country as part of a partnership between AARP, AAA and the American Occupational Therapy Association (AOTA), are designed to provide a quick but comprehensive check of how well drivers and their vehicles work together.

Trained instructors at drive-up CarFit sites will ask you simply questions and complete a 12-point CarFit checklist to make sure you are familiar with, and properly using, all your car's features, such as seat belts, head restraints, steering wheel tilt, rear view mirrors, seat adjusters, emergency flashers, turn signals, brakes, lights, etc.

The whole process takes about 20 minutes, and you leave with knowledge and confidence to "fit" your vehicle well.

"A lot of people hear about CarFit and they don't want to do it because they think we're going to test them and take away their driving privileges. Nothing could be further from the truth," said Buzz Marshall, state coordinator of the CarFit program in Wisconsin. "We're not here to take people off the road. We're here to help people become more familiar with their vehicles. It's only about education and safety."

In fact, just making some simple adjustments can drastically reduce your chances of getting in a serious injury if you're in a crash. For example, if you are seated too close to the steering wheel, your airbag can actually injure you rather than save your life.

Head restraints that are too high or too low can also lead to whiplash in a crash. And poor positioning of rearview mirrors can create blind-spots that hinder your view of other vehicles. Car volunteers simply want to make sure you are in the right position for comfort and safety.

The final step of the CarFit check is a chat with a licensed occupational therapist, who can offer suggestions to help you avoid any discomfort you're experiencing while driving, such as back pain, eye strain or mobility issues.

They also offer a variety of adaptive devices that drivers can order to improve their driving experience. One of these devices, called a "handi-bar", not only assists drivers in getting in and out of their vehicles with greater ease, but also can cut through a seat belt and smash a car window if the driver becomes trapped inside.

"Everyone who goes through a CarFit checkup learns at least one new thing," Marshall said. Muzzi said she learned of all the benefits of the adaptive devices, and wishes she would have known about them when her parents could have used them years ago. She also recommends CarFit to anyone who just purchased a new vehicle, like she did.

"When I bought my new car I was never given a full orientation to everything it could do. Until I went through CarFit I was unaware of many of its safety and convenience features," she said.