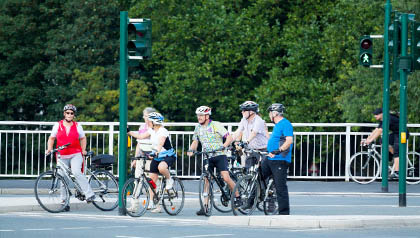 City streets aren't just for cars. Bicyclists, bus riders and pedestrians of all ages, abilities and speeds are on the roads and sidewalks—and AARP Louisiana is working to make sure these thoroughfares are safe for everyone.

The Baton Rouge Metropolitan Council recently passed a "complete streets" resolution, calling on city planners to design streets for all users, and to include sidewalks, bike lanes, crosswalks, medians and bus shelters.

Baton Rouge ranks second worst in traffic congestion among similarly sized cities nationwide, according to a Texas A&M Transportation Institute study, making alternatives to automobile traffic especially appealing. AARP has successfully backed similar legislation statewide and in New Orleans. The effort is part of AARP's mission to make communities livable for people of all ages.

To get involved in this effort, go to aarp.org/volunteer, look for AARP Volunteer Programs and click on AARP in Your State.