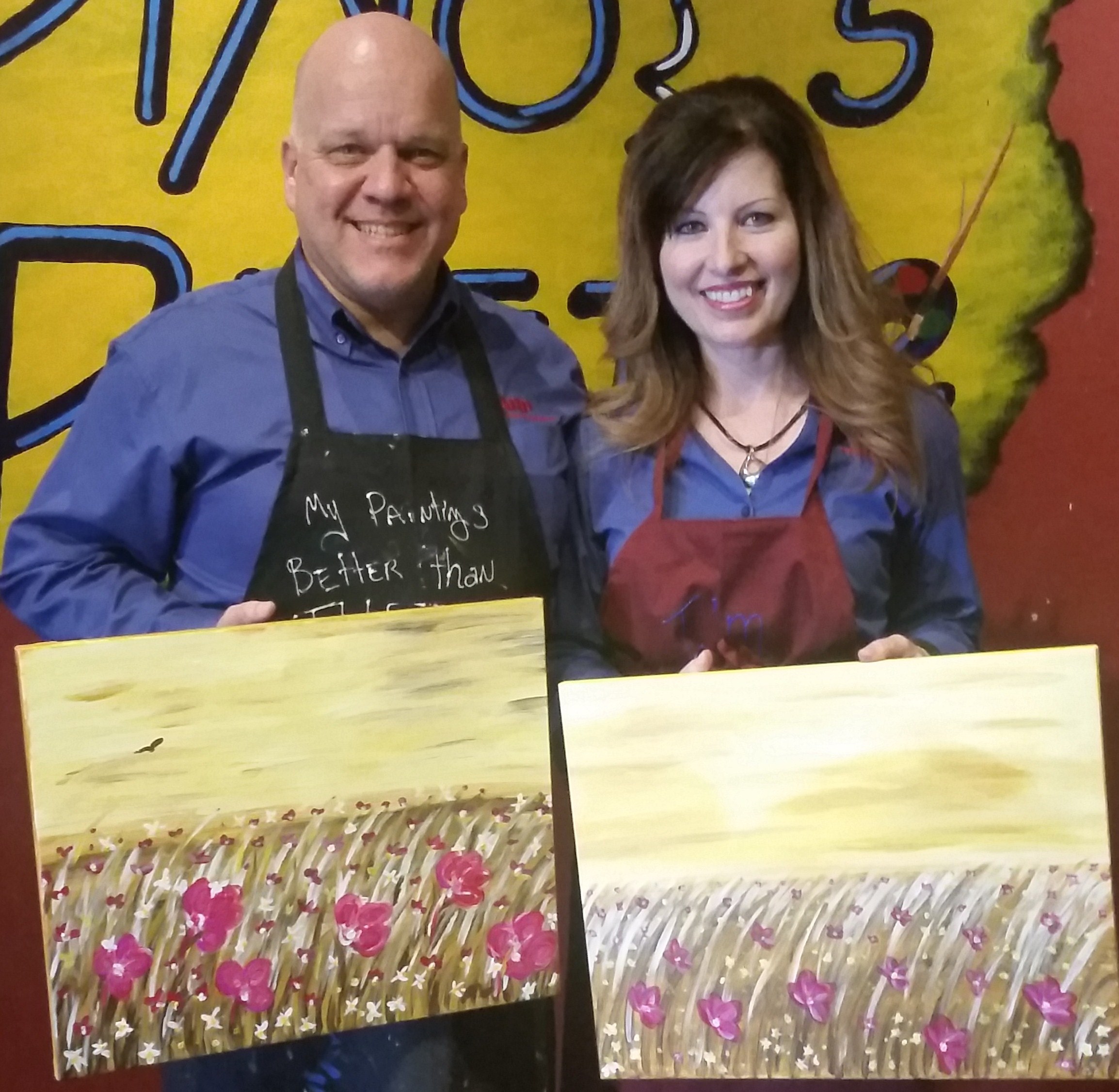 When AARP Arizona's James Hughes was recently asked to fill-in and host an AARP "Take Your Brush to Canvas" painting event in Phoenix, he didn't think it would be a life-changing experience. "I never expected to get anything personal out of it, other than helping out our short-handed staff," said James. "After all, I couldn't even draw a straight line, so my expectations for actually painting a picture during the event were pretty low."

Little did James know that he would discover a hidden talent he never thought he had.

Taking along his wife Jennifer who helped out as a volunteer, the two welcomed everyone on behalf of AARP in Phoenix, then settled in to enjoy the event. "I was there to assist James," said Jennifer. "I never expected that it would lead to anything more."

The "Take Your Brush to Canvas" painting session is among a series of events that are being offered to AARP members in the Phoenix area in an effort to "go local" in communities.

During the two-hour session, an artist from a local studio teaches the fundamentals of acrylic painting with all the participants painting the same picture. "I was amazed because the teacher told you exactly what to do, and as the class progressed, I could see that everyone had their own interpretation of the picture, so it made Jennifer and I feel less nervous and freer to create our own versions," said James.

By the end of the session, Jennifer says they were hooked. "We looked at our finished pictures and immediately began to explore real possibilities for continuing our painting beyond the event because we found the experience so enjoyable."

James (53) joined AARP Arizona as Senior Operations Manager in September of 2014. His background includes working as a professional clothier in which he sold high-end custom clothing to professional athletes, celebrities and government officials. Jennifer (50) attended the New York Fashion Institute of Technology where she learned design. Both have extensive experience in the "art of colorizing."

"It was our previous, and almost long-forgotten, combined backgrounds in fashion, color and design that came back to us as we took up our brushes, and we recognized that we had stumbled onto a new creativity that excited us, and that we could do together," said James.

They soon went out and purchased painting supplies, easels, tarps and aprons, and began painting together on weekends and sometimes in the evening after work. James says he and Jennifer paint pictures that they take on their phones or find online or in print; a desert landscape, an ocean scene or mountains. "Sometimes we even pick a painting that we have envisioned in our mind, I'm now thinking about painting Abraham Lincoln, something I would never have dreamed of doing just a few months ago."

Reflecting back on their Life Reimagined moment, Jennifer says it came as a total surprise, "Painting has changed our lives. We never thought attending the AARP Phoenix event would bring something new and enjoyable to our relationship. We now have a creative hobby we share together, and we are both enriched by it."

Their Life Reimagined together is also rubbing off on relatives and friends, "They've taken notice," adds James. "Our hobby has inspired them to explore their own creativity, so our painting sessions at home are becoming truly family affairs."

With scores of paintings now under their belt, James and Jennifer are entertaining the idea of showing off their canvases at a local café where, if purchased, the monies would go to local charities. "What a perfect ending to painting our pictures, giving what we've created to charity," said James.

For more information about Life Reimagined or upcoming AARP Phoenix "Take Your Brush to Canvas" events, click here.