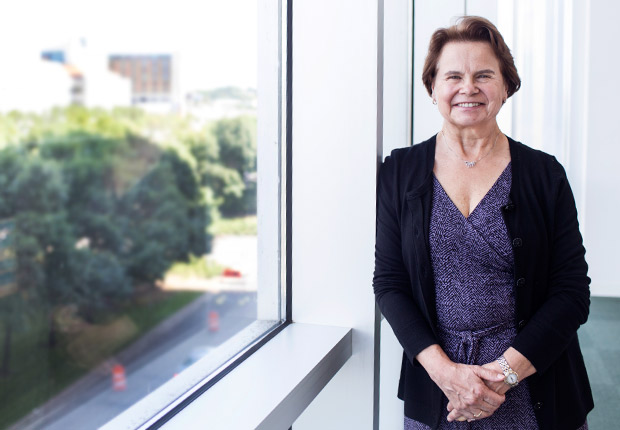 Por Pamela Schmid

Ya que los votantes de 50 años o más juegan un papel fundamental en las elecciones por las gobernaciones y cargos legislativos del mes que viene, AARP Minesota se asegurará de que los candidatos expongan sus posiciones sobre temas clave a sus socios.
"El voto del adulto mayor va a ser decisivo en los resultados de las elecciones en todo el estado de Minesota", dijo Larry Jacobs, director del Center for the Study of Politics and Governance (Centro para el Estudio de Políticas y Gobernanza) de University of Minnesota. "Veremos un esfuerzo concertado por ambos partidos políticos dirigido a los adultos mayores, porque ellos son los que van a acudir a las urnas".
De los 3.1 millones de votantes registrados del estado, alrededor de la mitad —casi 1.6 millones— tienen 50 años o más, según la oficina del secretario de estado.
AARP no respalda a ningún candidato, no hace contribuciones a ninguna campaña ni favorece a ningún partido político.
AARP Minesota está informando a sus 660,000 y más socios sobre la posición de los candidatos al Congreso y a la gobernación respecto a los temas de mayor interés, mediante una guía del votante disponible en aarp.org/yourvote. El gobernador Mark Dayton (D), de 67 años, buscará la reelección para un segundo mandato. Enfrenta a Jeff Johnson (R), de 47 años, un comisionado del condado de Hennepin que ganó las primarias de su partido el 12 de agosto.
La organización también realizará foros municipales sobre una de sus preocupaciones cruciales: la seguridad económica.
Una familia típica estadounidense próxima a la jubilación tiene solo alrededor de $3,000 en ahorros. En Minesota, hay 873,000 empleados que no tienen acceso a una cuenta de jubilación en su trabajo, y para el 24% de los residentes mayores del estado la única fuente de ingresos es el Seguro Social.
"Hay una generación entera de trabajadores que no tienen una pensión, como sí tenían las generaciones pasadas", dijo Will Phillips, director estatal de AARP Minesota. "Queremos que todos los residentes de Minnesota tengan un futuro económicamente seguro. Es extremadamente importante".
Según una encuesta de AARP realizada este año, el 68% de los votantes de Minesota de 45 años o más está a favor de la implementación de un plan estatal que permita a los residentes ahorrar para la jubilación. AARP Minesota está de acuerdo con que los trabajadores tengan acceso a cuentas de ahorro en el lugar de trabajo. Tal como hicieran otros estados, este año Minesota promulgó una ley que ordena un estudio sobre este tema.

Apoyo para cuidadores
AARP también quiere saber de qué manera apoyarán los candidatos a los cuidadores familiares no remunerados. En el 2009, casi 1 millón de residentes del estado cuidaron de un familiar o amigo de edad avanzada, de acuerdo con un informe de AARP Public Policy Insitute. Estos cuidados no remunerados tuvieron un valor de $8,200 millones ($8.2 billion) al año.
AARP ha impulsado propuestas de ley que permitirían a los cuidadores familiares recibir apoyo y capacitación para ayudar a que sus seres queridos puedan seguir viviendo en sus hogares.
"Hay innumerables héroes anónimos por ahí… cuidando de familiares y seres queridos, ayudándolos a vivir con independencia en sus hogares y comunidades", dijo Phillips.
La educación juega un papel fundamental a la hora de ayudar a los cuidadores a sentirse menos abrumados, sostuvo Jean Wood, directora ejecutiva de la Junta Estatal sobre el Envejecimiento en Minesota, que ha respaldado las iniciativas de AARP Minesota para ayudar a los cuidadores.
"Es dedicación las 24 horas al día, siete días a la semana y, a menudo, no sabes lo que sucederá inmediatamente después", sostuvo Wood. Una forma de reducir el estrés es "tan sólo saber… lo que va a suceder a continuación o que puedes encontrar servicios que podrían ayudarte".
Los candidatos también enfrentarán preguntas sobre el servicio de telefonía. Dado que los residentes mayores de Minesota tienden a depender mucho más de líneas telefónicas fijas para vincularse con el mundo exterior, los avances tecnológicos no deberían producirse a costa de un menor acceso a servicios telefónicos confiables, señaló Phillips.
Asimismo, AARP pedirá a los candidatos que elaboren y refuercen leyes que protejan a los residentes mayores de la explotación y abusos económicos.
Según Jacobs, los residentes mayores de Minesota han jugado y juegan un papel importantísimo en determinar el resultado de las elecciones de mitad de mandato. "Creo que muchos de ellos decidirán si quienes hoy ocupan esos cargos electivos están honrando o no sus compromisos", agregó.