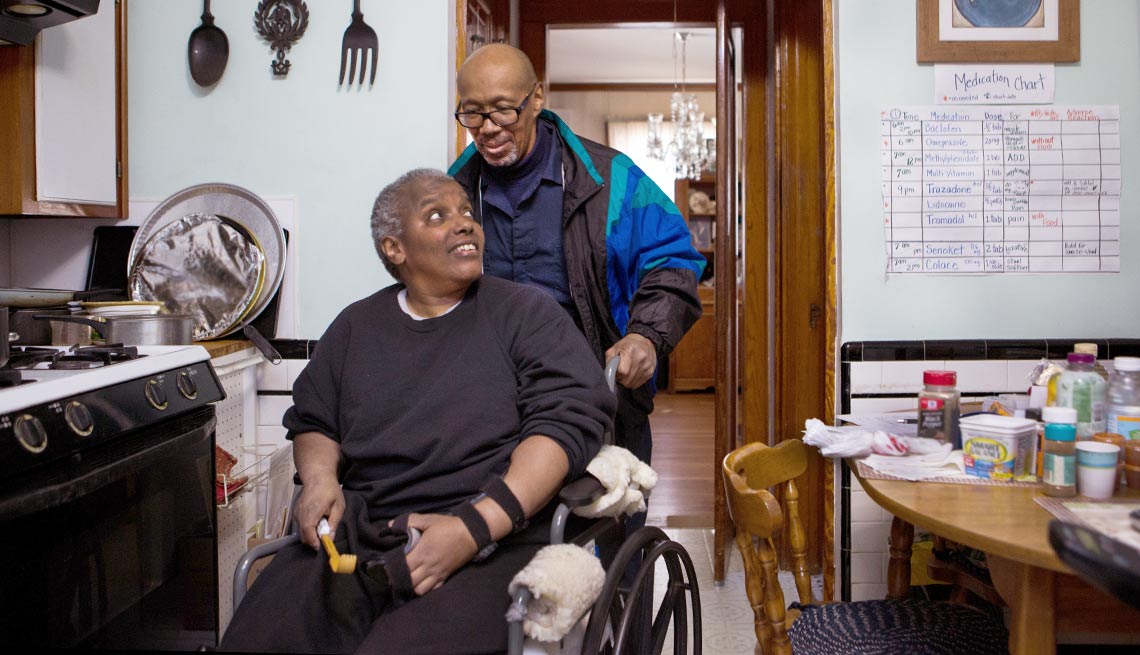 By Jill Gambon

Carlton Frank said the phone call two years ago was brief. A social worker told him that his wife, Theresa Price-Frank, 60, recovering from a stroke, would be discharged from a rehab facility in four days.

There were no instructions about the home care she would require and no information about necessary equipment or accommodations for their Dorchester home.

"There was no exit plan, no discussion of what I needed to do for her to come home," recalled Frank, a 69-year-old retired airline worker.

As it turned out, there was much Frank had to do to prepare for his wife's return, from getting a wheelchair ramp installed to learning how to help her get into and out of the car.

"This was the first time I'd experienced something like this," said Frank, who is his wife's sole caregiver. "They should have got with me to talk about what's needed when a person has a stroke."

Providing support for family caregivers like Frank is the top priority on AARP Massachusetts' agenda for this year's state legislative session. A proposal known as the Caregiver Advise, Record, Enable (CARE) Act would require hospitals to provide designated family caregivers with information and instructions about administering medications, caring for wounds and other tasks before a patient is discharged.

"We are in the midst of a very focused advocacy agenda supporting caregivers. And the CARE Act is the crown jewel," said Michael Festa, AARP state director.

Hospitals supportive
The CARE Act was introduced early last year and is wending its way through the legislative process. In addition to the discharge plan requirements, hospitals would have to keep the caregiver's name and contact information in the medical record, and the caregiver would have to be notified before a patient's discharge or transfer.

The Massachusetts Hospital Association is backing the bill currently before the Legislature. This version of the bill does not include skilled nursing and rehab facilities, "although we recognize that the law could be expanded to include them in the future," Festa said.

Similar laws are already on the books in 18 states.

In Massachusetts, many people feel the strain of caring for older or disabled family members at home. There are roughly 844,000 family caregivers in the state, according to a 2015 AARP Public Policy Institute report. The unpaid care they provide has an estimated annual value of $11.6 billion.

"Caregiver support is a big priority because it touches so many people," Festa said.

AARP Massachusetts will also be advocating for legislation that aims to protect family caregivers from workplace discrimination. The proposal would allow workers who believe they have been unjustly penalized because of caregiving responsibilities to file complaints with the Massachusetts Commission Against Discrimination.

Another priority is a bill to increase income eligibility limits for home care for older residents and people with disabilities.

As the legislative session progresses, Festa and volunteer advocates will also be keeping an eye on the state budget for the upcoming fiscal year, which starts July 1, to push for funding of home care and other programs that benefit older residents.

Critical to those advocacy efforts is the network of volunteers, including people such as Charlie Walsh, a retired school principal who lives in Salem. Walsh, who is president of his local AARP chapter, said lawmakers pay attention when constituents contact them and express their opinions.

"People have to let their voices be heard," said Walsh, 84.

Frank agrees with that sentiment. He is paying attention because of proposals like the CARE Act. "Letting people know about an exit plan would be a big thing," he said.

Interested in becoming a volunteer advocate? Call 866-448-3621 toll-free or email ma@aarp.org.

Jill Gambon is a writer living in West Newbury, Mass.