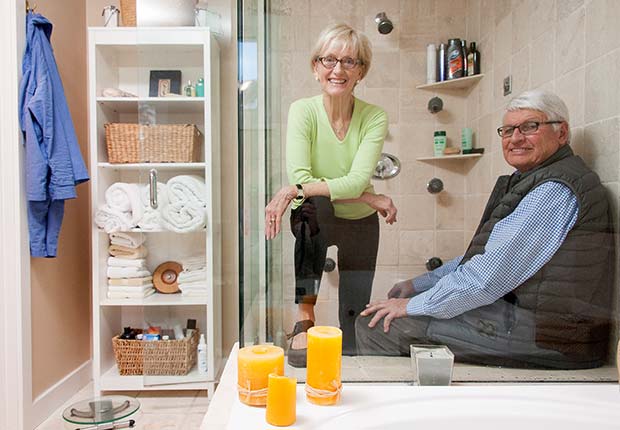 By Kenneth J. Cooper

John and Hannelore Meyer, both 75, are in excellent health. The expert skiers try to spend at least 30 days on the slopes each winter. Both work out in a gym three days a week. He takes long bike rides, and she hikes and kayaks.

But the Meyers have been preparing for eventual physical frailty since buying a ranch-style retirement home in Orleans on Cape Cod almost 20 years ago.

"I liked the fact that it was mostly on one floor," said John Meyer, a civil engineer. "We both intend to live our lives here and have help in the home, as necessary, as we age."

The couple had a seat installed in the shower to reduce the risk of falling. They also added a railing to the stairs to a converted garage.

"That's a safety consideration," Meyer said. "She goes downstairs multiple times a day to her office. And I go up and down, too."

AARP Massachusetts has been schooling people across the state on how to retool their homes, as the Meyers have been doing, so they can age in place. Eight times last year, volunteers led HomeFit workshops, recommending changes to ensure safer and more convenient living. At least five workshops are planned this year, including May 5 from 1:30 to 3 p.m. at the Sharon Adult Center, 219 Massapoag Ave., Sharon. Register by May 1 at 877-926-8300 toll-free or click here.

"We've got an aging population. We've also got some of the oldest housing stock in the country that doesn't always lend itself as well to … [allowing people] to safely age in place," explained Ellie Meyer of Weston, the couple's daughter-in-law, who is also an occupational therapist and lead HomeFit volunteer for AARP Massachusetts.

"There's a lot of stairs. Many utility boxes, laundries are in the basement. Many master bedrooms and bathrooms are up on the second floors," said Ellie Meyer, who also has counseled her in-laws.

Joan Simmons, an occupational therapist at Springfield College who helps with the presentations, cited health and financial reasons to modify homes.

"One of the things we emphasize is the frequency of older adults having falls," Simmons said. In 2013, 2.5 million people 65 or older were treated in emergency rooms for nonfatal falls, according to the federal Centers for Disease Control and Prevention.

Spend a little wisely
Home modifications can cost a little or a lot, but not as much as the roughly $10,500 a month to live in a nursing home in Massachusetts, Simmons said.

Ellie Meyer and Simmons outlined these relatively inexpensive additions:

Levers on doors instead of hard-to-turn knobs.
Secure grab bars in showers in place of towel bars that can snap.
Adequate lighting of entrances, hallways and bathrooms.
A special shower chair or bench, about $100.
Expensive changes include stair lifts ($4,000 plus installation), pull-down kitchen shelves ($400 per shelf) and walk-in tubs (starting at about $2,000).

The occupational therapists recommended homeowners contact the National Association of Home Builders (800-368-5242) to find contractors certified for aging-in-place projects.

Saul Beaumont, of Natick, 78, a registered professional engineer, introduces the workshops. He tries to persuade his peers to make modifications before a health problem suddenly disables them.

"We're all in denial—'Hey, not me. It's the guy down the street that needs the ramp,' " Beaumont said. "Certainly, denial is a big problem among senior citizens."

The Meyers are not done making their home age-friendly. This spring they plan to redo landscaping to eliminate steps to the back door and, inside, to add a grab bar to their bathroom.

For details on other HomeFit workshops, visit the AARP Massachusetts website.

Volunteers are needed to make presentations and will be trained. To volunteer, call 866-448-3621 toll-free. More ideas on home safety are available at aarp.org/homefit.

Kenneth J. Cooper is a freelance writer and editor living in Dorchester, Mass.