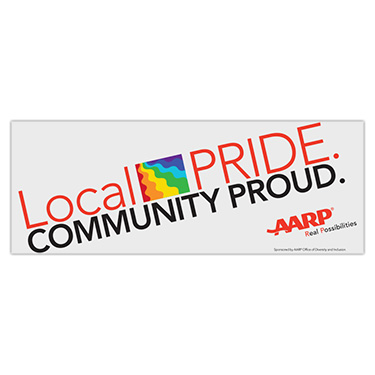 AARP is committed to serving everyone 50+ including those who are lesbian, gay, bisexual or transgender (LGBT) and their families. March with AARP employees and volunteers in the Capital PRIDE Parade on Saturday, June 11, 2016 from 4:30 p.m. - 7:30 p.m. By signing up through the link below, you will receive information on where to assemble. Arrive early and help to decorate the AARP trailer. The parade route will be 1.5 miles through the Dupont Circle area of the District.

One-tenth of the District's population identifies itself as LGBT, a higher percentage than in any state in the nation, according to Gallup. The week-long celebration of Capital PRIDE has attracted some 300,000 people, including the LGBT community and those who love and support them. AARP embraces all who are 50+ with helpful services and resources. Join us on June 11th. #AARPDCPride #AARPCapRegion

To march with AARP, sign up by June 6, 2016 here! You also can register through this toll-free number: 1-877-926-8300

AARP's Capital Region Employee Engagement (CREE) and Prism SEERG are coordinating the AARP contingent. CREE includes AARP DC, AARP MD, AARP VA, AARP WV and Legal Counsel for the Elderly. Prism is an AARP Strategic Engagement Employee Resource Group (SEERG) for LGBT staff and supporters.