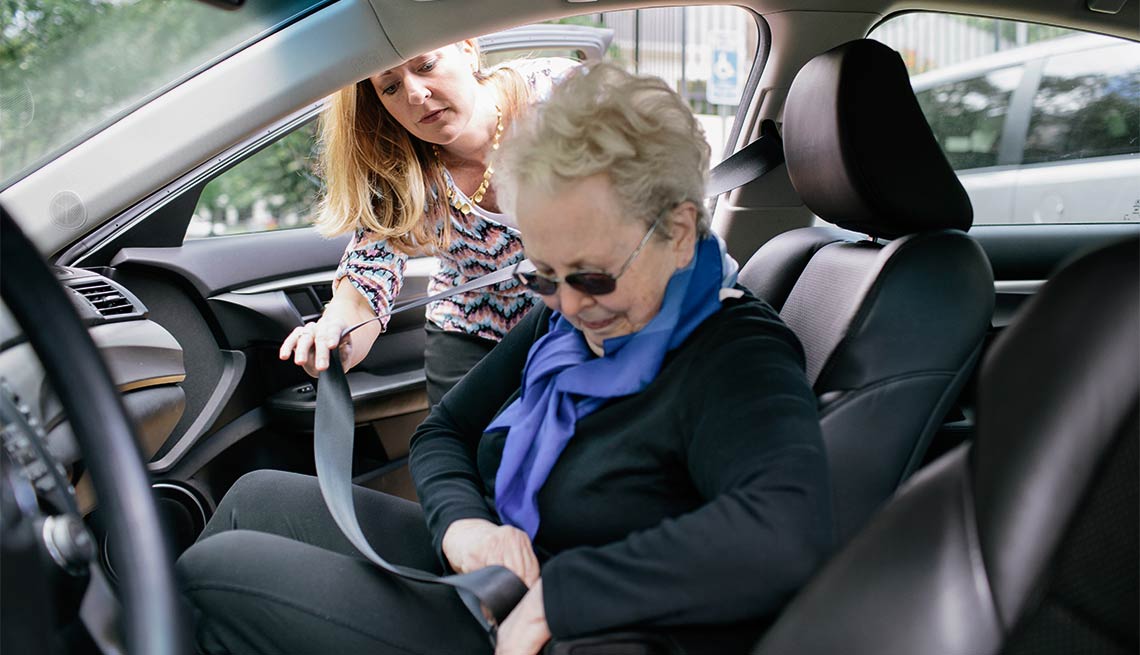 Por Sue Lindsey

A Rodman Jenkins le entregan en casa sus compras y muchos de sus medicamentos, pero este residente de Reston de 86 años utiliza un andador y necesita ayuda para asistir a sus citas médicas y hacer sus diligencias.

Jenkins utiliza un servicio de transportación que el Centro Comunitario de Reston en el Condado de Fairfax comenzó a ofrecer en julio. Los voluntarios que utilizan sus propios vehículos lo han llevado a citas médicas en varias ocasiones sin cobrarle un centavo.

"Los servicios que recibo son bastante satisfactorios", dice Jenkins, quien vive solo y ha recibido servicios de transportación de parte de un vecino y de miembros de su iglesia.

El servicio de Reston comenzó gracias al apoyo de una organización conocida como NV Rides (en inglés), la cual coordina programas de transportación para personas mayores que no conducen en la región norte de Virginia, según Karen Brutsché, directora del Programa 55+ del centro comunitario.

Es uno de los servicios de transportación de puerta a puerta que han surgido a lo largo de Virginia. La mayoría son gratuitos y los programas operan con fondos locales, estatales y federales.

MedTran, en el área de la Península, también utiliza conductores voluntarios. Los programas en Fredericksburg y Roanoke pagan por conductores.

NV Rides se estableció hace un año y es una colaboración entre el Condado de Fairfax, el cual otorgó una subvención por dos años, y el Jewish Council for the Aging of Greater Washington (JCA, Consejo Judío sobre el Envejecimiento del Área Metropolitana de Washington). El Jewish Community Center (Centro Comunitario Judío) del norte de Virginia administra el programa.

Hasta ahora NV Rides trabaja con cinco organizaciones para proveer programas de computadoras y capacitación para que los conductores voluntarios puedan preparar sus propios itinerarios de viaje, dice Jennifer Kanarek, administradora del programa. Además dijo que sufraga el costo de la verificación de antecedentes de los conductores y asiste en el reclutamiento de voluntarios.

Durante el primer año del programa, 177 voluntarios hicieron 3,795 viajes y reportaron 21,750 millas recorridas, según NV Rides.

Kanarek desea expandir NV Rides y en un futuro tener conductores que puedan servir en otros programas del área que necesiten voluntarios.

Demanda de voluntarios

El Shepherd's Center de la Iglesia McLean-Arlington-Falls es financiada por donaciones privadas y cuenta con un programa de transportación desde el 2006. Desde que se afilió a NV Rides el año pasado, este programa se ha expandido, dice Tom Eversole, quien es miembro de la junta y tesorero del centro. Dice que el programa cuenta con 61 clientes nuevos desde el año pasado y presta servicios a casi 200 personas.

"Los clientes nos pueden encontrar con mayor facilidad", dice Eversole. "Tenemos la esperanza de que esto provea una oportunidad para atraer voluntarios nuevos".

La necesidad de voluntarios es un tema muy común entre los programas de transportación en todo Virginia, y AARP Virginia ha ayudado a llevar a cabo esfuerzos de reclutamiento de voluntarios entre sus socios, dice Amber Nightingale Sultane, subdirectora estatal de Alcance Comunitario.

En Fredericksburg, Mobility Options le paga a siete conductores a tiempo parcial para que transporten a los residentes de 60 años o más, así como a personas con discapacidades y personas de bajos ingresos. El costo por viaje es de $4 ida y vuelta en la mayoría de los casos. Visita raaa16.org (en inglés), para obtener más información.

En Roanoke, la Oficina sobre el Envejecimiento contrata taxis para llevar a los residentes mayores a sus citas médicas, a la farmacia y al supermercado. La coordinadora Elaine Engleman dice que a las personas se les solicita una donación. Para más información visita loaa.org.

Uno de los objetivos del programa es reducir el aislamiento de los adultos mayores que viven solos y ya no conducen. A Karanek le gustaría expandir NV Rides y poder llevar a los clientes a eventos sociales y familiares, aunque cualquier contacto con voluntarios puede marcar una diferencia.

En el área de la Península, Larry Spence, de Hampton, lleva tres años trabajando en MedTran haciendo tres viajes matutinos a la semana.

"He llevado sobre 200 personas y nunca he tenido un altercado, una discución ni nada parecido con alguno de ellos", dice Spence, de 76 años.

¿Necesitas transportación o quieres ser voluntario? En la región norte de Virginia, visita nvrides.org (en inglés) o llama al 703-537-3071. En la Península, visita paainc.org (en inglés).

Infórmate cómo vivir más cómodo en tu hogar y vecindario con nuestro subcanal de Comunidades habitables.