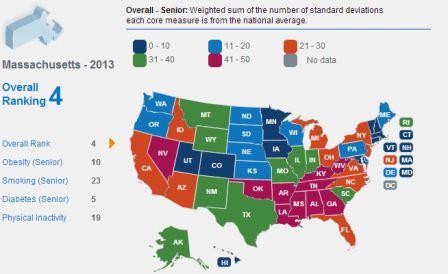 Congratulations, Massachusetts seniors! You live in the fourth healthiest state in the country, according to a new study just released by the United Health Foundation. The Senior Report—issued for the first time by the UHF—determines state rankings on the health of seniors (those age 65+) based on overall health, well-being, social and economic measures. Information from the Foundation's site says that "34 different measures of health, ranging from smoking and obesity to ICU usage" are used to compare the health of seniors in each state.

Some of the Massachusetts Senior Reports highlights include:

Massachusetts has one of the lowest percentages of estimated geriatrician shortfall at 40.0 percent of the number of geriatricians needed.
While Massachusetts has one of the lowest obesity rates in the U.S. at 22.8 percent of adults aged 65 and older, more than 200,000 seniors are still obese in the state.
Food insecurity is low among Massachusetts seniors; 10.5 percent of adults aged 60 and older, or 95,000 seniors, are marginally food insecure in the state.
A low percentage of Massachusetts seniors enrolled in hospice during the last 6 months of life at 30.7 percent of adults aged 65 and older.
Over 500,000 Massachusetts adults aged 65 and older with arthritis report that pain does not limit their usual activities.
The report also includes "Strengths," such as a high percentage of Bay State seniors receiving health screenings, as well as "Challenges," which include a "high rate of preventable hospitalizations."

Read complete details of the Massachusetts ranking report, and the national Senior Report.

For more ways to stay healthy, visit our Heath & Wellbeing page.