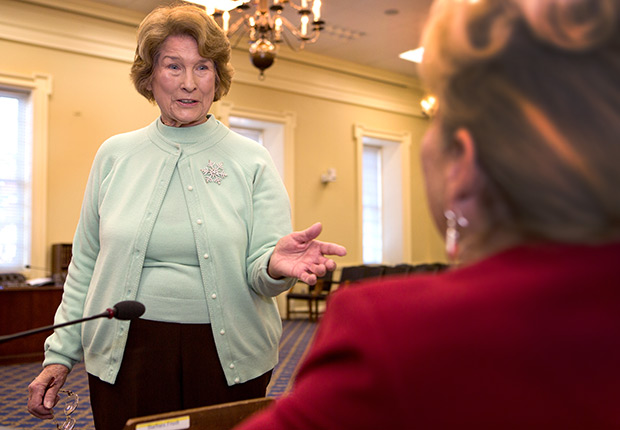 By Effie Dawson

Jannette Wundrow is grateful that Maryland has a financially sound state pension fund. But she wasn't happy when lawmakers held back $200 million last year from a required annual payment to the fund.

A retired public school teacher from Bowie, Wundrow, 76, lobbies for the pension fund and other issues important to older Maryland residents as an AARP volunteer legislative advocate. She attends meetings of the Prince George's County legislative delegation, talks to lawmakers and staff on AARP lobby days and sends emails to share her views. "The legislators know I'm here to support senior and retiree issues," she said.

Wundrow is one of nearly three dozen advocates who promote AARP Maryland's legislative agenda to the state's 141 delegates and 47 senators. Advocates say it's fulfilling to have a role in shaping Maryland laws and interesting to get to know their elected state officials.

One of the advocates' responsibilities is to attend the Friday morning meetings of local delegations at the State House during Maryland's 90-day legislative session, which started Jan. 14. The advocates take notes on legislation and other issues and report back to Tammy Bresnahan, AARP Maryland advocacy director. "It's very good intel," she said.

"One important part of the district meetings is for the volunteers to get some one-on-one time with legislators from their hometowns and develop a relationship with them, so that when an issue does come up they can go and talk to them," Bresnahan said.

"This is how we get our message spread," said Christy Page, outreach director for AARP Maryland.

'Armchair advocates'
Legislative advocates also attend—and sometimes testify at—legislative committee hearings. Others are what Bresnahan calls "armchair advocates," who can't make it to the state capital regularly but write letters and emails and make phone calls to lawmakers.

Volunteers learn to track legislation on the General Assembly website and are trained on how to connect with and talk to legislators, Bresnahan said. There are informal training sessions throughout the year, as well as an annual orientation program for new volunteers—this year set for April 21.

"Being active at the state level, your voice is a lot more powerful than at the national level," said Ed Yalow of Pikesville. Yalow, 67, a retired software engineer, wears his AARP shirt to district meetings and committee hearings, which he believes sends a subtle show of support for AARP positions. "I am one more person promoting what AARP cares about," he said.

Yalow is familiar enough with his local legislators to know which ones to write, which ones to email and which ones to call to express his views on pending legislation. "I know who is likely to read what I write and I know who is likely to ignore what I write," he said.

Mary Kraaij, 72, of Towson's Stoneleigh district, retired from a career in nursing and public health administration seven years ago and became a legislative advocate at the suggestion of someone at her gym. "I was used to working full time and being active and wanted to find something meaningful to do to give back."

She said legislators respect her experience in the health field and sometimes seek her views of health-related measures. "I find our legislators very responsive and very engaged and very interested in listening," Kraaij said. Her advocacy work led her to become the AARP representative on a task force studying electronic health records.

Advocates said the meetings also keep them informed about federal and local issues affecting their communities. Wundrow said speakers at the Prince George's County delegation meeting have discussed a proposed hospital, new parks and the county school system.

Kraaij said she would recommend the volunteer program to others interested in staying active and giving back to their community and state.

"It's not physically taxing, but it will keep you mentally engaged and you truly can make a difference," she said. "It's great to keep your mind active and wrestling with how best to proceed on knotty issues where there's usually not a 100 percent right or wrong side."

To become an advocacy volunteer, email Bresnahan at tbresnahan@aarp.org.
Effie Dawson is a writer living in Arnold, Md.