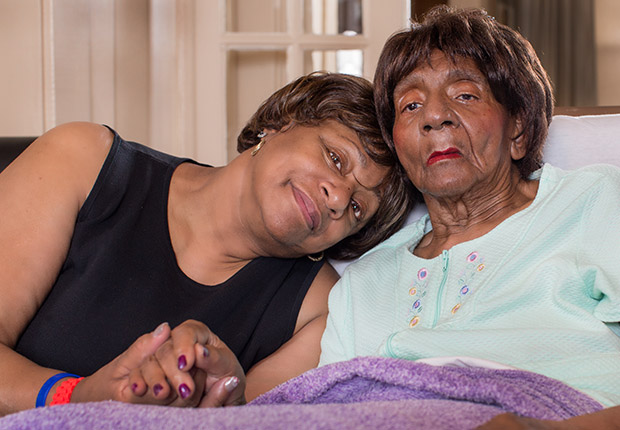 By Effie Dawson

Marietta English took in her mother, Ella Cooke, 10 years ago after surgery left the older woman unable to live alone. But later, when her mother developed dementia, English struggled to cope with her new needs.

English, 68, of Pikesville, received help in 2009 through a Johns Hopkins University pilot study that provided a care coordinator to help her identify and address her mother's needs.

"We were able to demonstrate that people who were having these needs met were in their homes significantly longer," said study leader Quincy Miles Samus, an associate professor of psychiatry and behavioral sciences at Johns Hopkins. The median additional time at home was 9.5 months, she said.

Researchers are seeking 900 more patients for two expanded versions of the Maximizing Independence at Home (MIND) project.

The $6.4 million MIND-Plus study, using federal funds, will enroll 600 residents eligible for both Medicare and Medicaid from Baltimore city and Baltimore and Howard counties. Participants will be accepted through February 2016 and will be followed for 18 months. Samus said this study's main goal is to examine potential cost savings to Medicare and Medicaid resulting from having a care coordinator.

The $3.4 million MIND-Streamlined study, funded by the National Institute on Aging, will enroll 300 patients who live within 30 miles of the center of Baltimore city. There are no income restrictions. Participants will be signed up by February 2017 and will be followed for 24 months.

Personalized plans
Both studies accept patients at any stage of dementia, Alzheimer's or other memory disorders currently living in an independent setting. All participants are visited by the MIND care team and receive a written set of care recommendations.

In the Streamlined study, half will be randomly selected to receive care coordination from the MIND team. There is a nominal stipend for MIND-Streamlined study participants.

The studies start with a home visit from a care coordinator and a nurse, who examine medical, legal, safety, activity and behavior concerns. They determine if there are community resources available for needs not covered by insurance. Then the MIND team develops an individual plan for how to improve the quality of life for patient and caregiver, and avoid unwanted nursing home placements.

English's care coordinator suggested she install handrails in the shower, move door locks higher and add a gate to prevent her mother from wandering. She also helped English identify activities her mother enjoyed, such as folding laundry, and found a respite program that gave her breaks from caregiving.

"They gave me a lot of suggestions on how to work with her," English said. "They were very concerned that I was doing some things for myself also, asking, 'Are you taking care of yourself? Are you taking time for yourself?' "

The coordinator stayed in touch for 18 months to help English implement the care plan. Cooke, 90, moved to a nursing home in December when she stopped walking. "I definitely believe the coordinator delayed her move to long-term care," English said.

Coordinators are trained to look beyond patients' basic needs and find creative ways to improve their lives, said care coordinator Lynn Huntley.

AARP is sending emails to recruit participants for the studies as part of its commitment to help older people stay in their homes, said Jen Holz, AARP Maryland associate state director for community outreach.

"Living independently has been a priority for us for a very long time," Holz said.

Nationally, 90 percent of AARP members have indicated their desire to age at home, she said.

The needs of caregivers are also important to AARP, Holz said. If the studies show benefits of care coordination, "then we will use that data to support our work to help keep folks in their homes as long as possible."

To enroll in one of the studies, patients or caregivers can call 410-550-6744 or email mindathome@jhmi.edu.

Effie Dawson is a writer living in Arnold, Md.